[Article under construction]
With the Corporate package come two levels of superusers: Corporate superusuer and Site superuser. Below is the comparison between both:
Corporate superuser

Site superuser

View data of all sites by selecting "All sites"

View, edit, create and delete data for a site

Filter information either by sites and/or projects

Filter information by projects for a site

View, create and edit dashboards

View, create, edit and delete dashboards for a site

Manage selection lists:

Choose which lists and values are corporate and which ones are site specific
Modify site values and select to which sites they apply
Merge value at both the corporate and site levels

Manage selection lists:

View corporate values
View and modify values that are specific to a site
Merge values that are specific to a site

 

Manage all staff members and their information

Manage staff members of a site and their information

Manage all users and their access

Manage users of a site and their access
Site superuser
A site superuser is allowed to modify selection lists in the Data dictionaries register that are not marked as Corporate.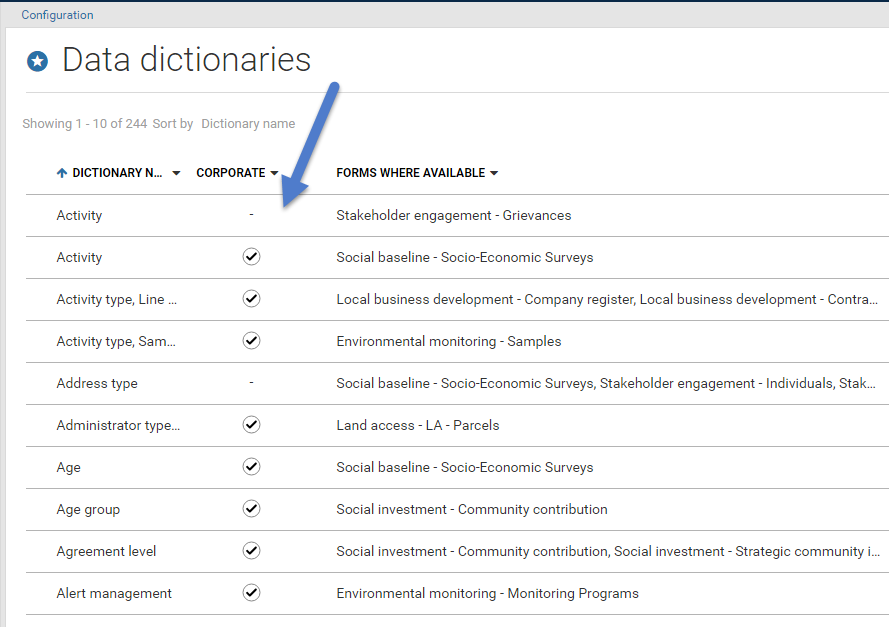 For corporate lists, a site superuser only have access to view data available to his own site. That means that if a corporate list has values that are not linked to a site (see first image below), a site superuser will not see these values (see second image below).