With Boréalis, you can configure different types of notifications that you will receive as e-mails. These notifications can be configured as reminders for late tasks, assessments, and so on.
Create a notification:
Step 1: Click on the "Configuration" icon in the application menu and click on "Email Notifications"
Step 2: Click "Add"
Step 3: Insert a representative notification name and indicate the form in which the information for the notification will be extracted. Note that these 2 fields are required.
Step 4: Set the rule for your notifications.
To create the rule for your notification, the first thing you will need to determine is the "Trigger". Here you have two options:
Triggered on a date (reminder): will use it when the notification is based on a specific date.
Triggered by an action (instantaneous): will use it when the notification has to be sent on an action (creation of task, change of status of a grievance, etc.)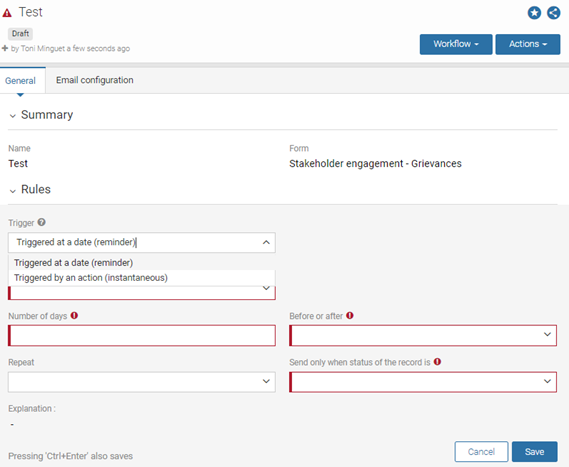 Step 5: Access the "Email Setup" tab, add the recipients of the notification (email) and fill in the "Subject" and "Body" fields (this will consist respectively of the subject and text that will contain the email sent).
Step 6: Click on the "Process" button in the upper right corner and then click "Activate". This last action triggers the notification so that an email is sent to all recipients when the identified trigger arrives.
Edit a notification
In the "Notifications" menu, double click on the desired notification, then by hovering over the field to be edited, an "Edit" option will appear, click and the notification can be modified.