1) Click on the Stakeholder Engagement module icon. Then, click on "Individuals".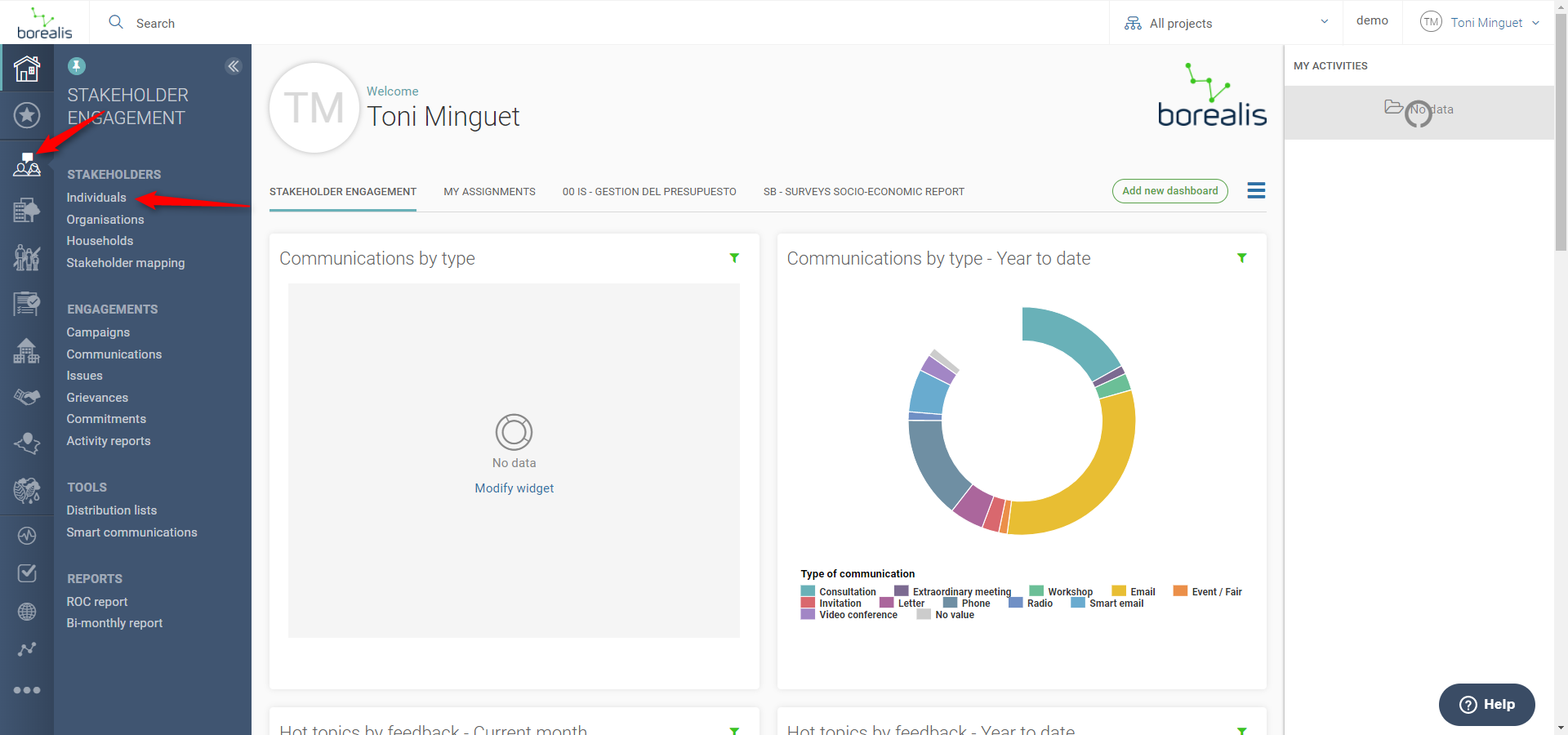 2) Click on the "Add" button in the top left corner.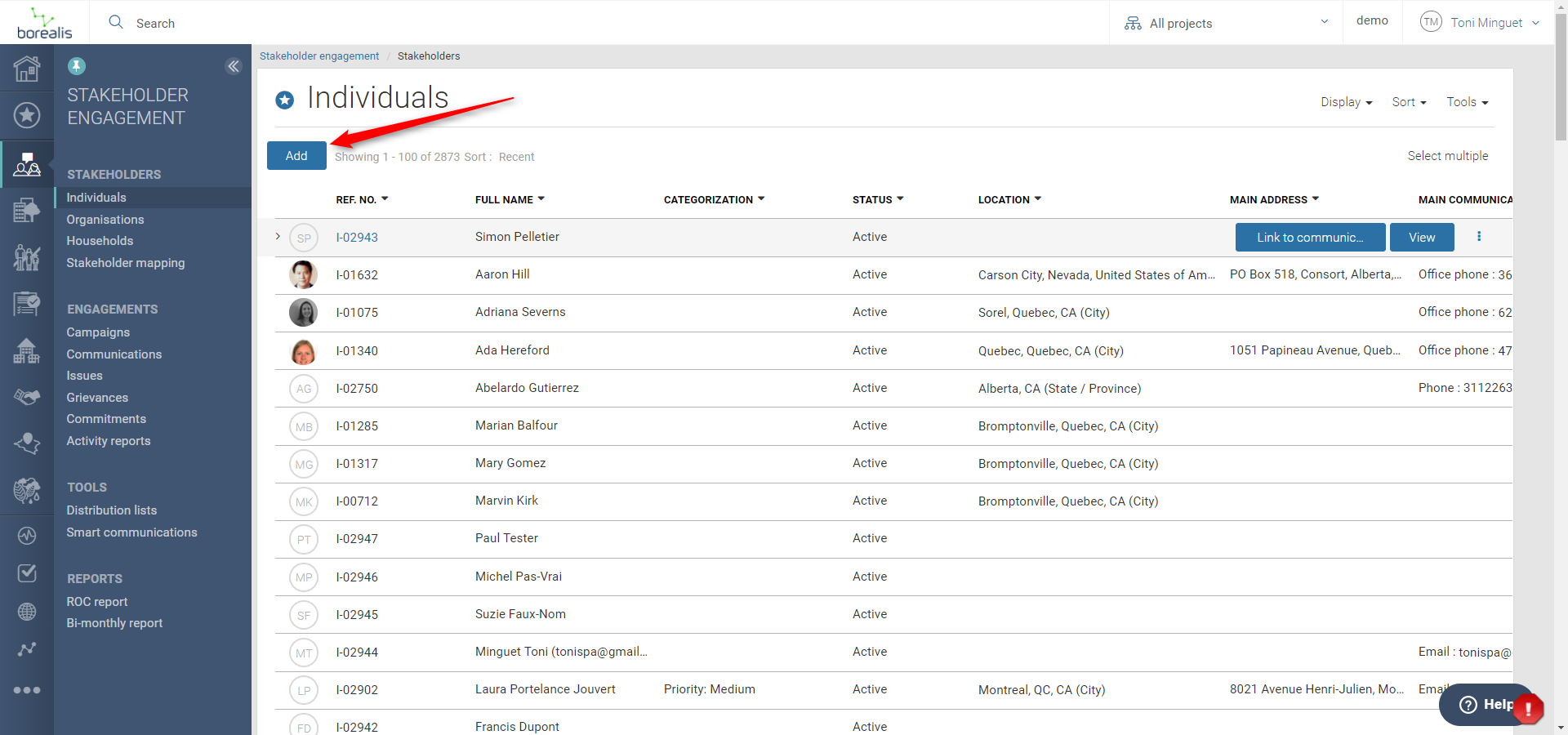 3) In the form that will appear, fill-out all the information you require to create the new individual profile. The fields hilghted in red are mandatory (in this case "First name" and "Last name" are mandatory). The rest can be completed later-on.
The fields completed here will be part of the "General Information" tab of the individual profile.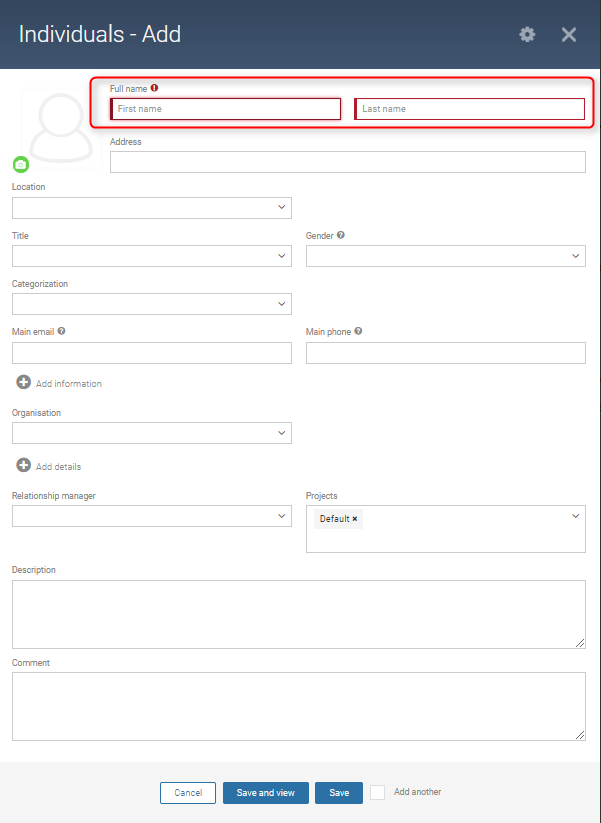 Here are other available fields and their use: 
Location: When this field is filled-out, it enables you to visualize the location of the Individual on a map. Most locations can be entered automatically using Google Maps. If it is not recognized by Google Maps, it can be entered manually.
Title: refers to the salutation title used for this individual (i.e: Mr, Mme, Mrs, Honorable, Chief, etc.)
Gender: Male / Female
Organisation: The field enables you to quickly identify the organisations where the individual used to work, where he/she works at the moment or where he/she might volunteer. The said organisations has to be created in Boréalis for it to work.
Relationship manager: The staff member responsible for all interactions between the organisation and the individual.
Project: Filling out the field gives the individual access to all projects they are involved in along with the corresponding data. 
4) Click "Save and view" if you wish to view the newly created profile. Otherwise, click "Save". 
***PRO TIP: If you must create many individuals in one sitting, check the box "Add another" next to the save button before saving your first individual. It will save the individuals you create and the page will remain on the creation form so you don't have to repeat all the steps every time. Trying it is adopting it ! 
4) After filling out the required general information, you will be able to complete all other relevant information among the different tabs.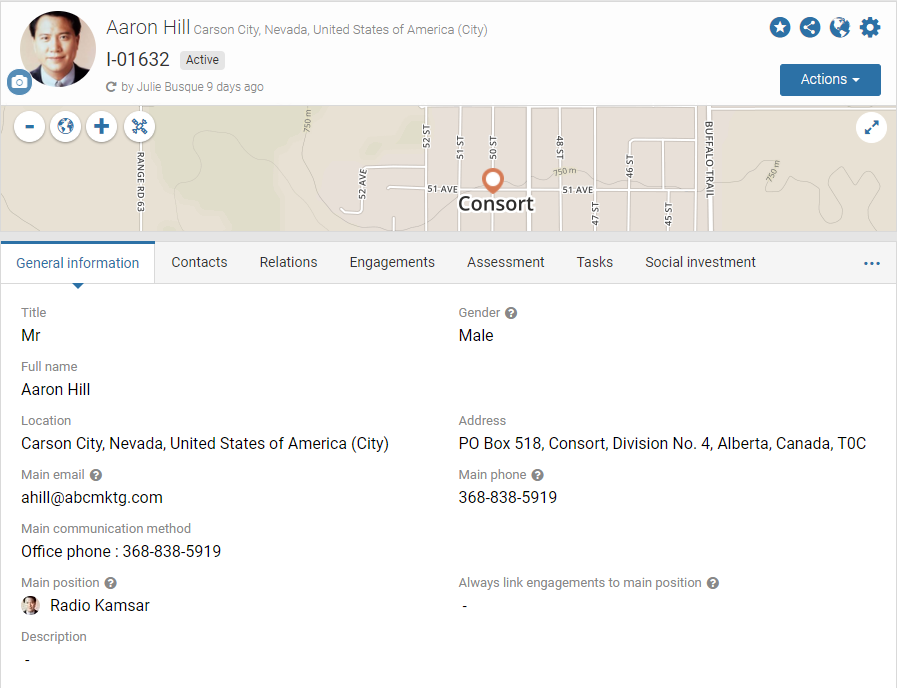 Contacts: Related information such as mailing addresses, email addresses, phone numbers etc. 
Relations: Related Organisations and relation with other Individuals (Father, son, sister etc)
Engagements: Lists all engagement the individual took part in (communications, grievances, campaigns, etc.) 
Assessment: this information is used to properly assess the individual and create representative Stakeholder mapping. (More on that in the Analytics section of the Helpcenter)
Tasks: This table shows the tasks linked to engagements in which the individual is included.
Finally, as different modules are added (Social investment, Compliance Management, Land Access, etc.), new corresponding tabs will automatically be added.
You can contact our Customer Care team for more information if this applies to you.