The first step for managing your individuals, would be to start their creation:
1. Click on the Stakeholder Engagement module icon. Then, click on Individuals.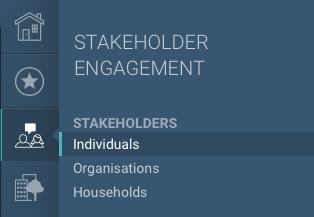 2. Click on the add button in the top left corner or the green Create button.
3. In the form that will appear, fill-out all the information you require to create the new individual profile. The fields with an * are mandatory. When creating a new individual, their full name and the project they are associated to are mandatory fields. The rest can be completed later-on.
The fields completed here will be part of the Identification of the individual profile.
4) Click "Save and view" if you wish to view the newly created profile. Otherwise, click "Save".
***PRO TIP: If you must create many individuals in one sitting, check the box "Add another" next to the save button before saving your first individual. It will save the individuals you create and the page will remain on the creation form so you don't have to repeat all the steps every time. Trying it is adopting it !
5) After filling out the required general information, you will be able to complete all other relevant information among the different tabs, Contacts, Relations, Engagements, Assessment and Tasks.
Finally, as different modules are added (Social investment, Compliance Management, Land Access, etc.), new corresponding tabs will automatically be added.
And once we add the individual, we can:
Updating information
Some information of an individual has to be updated in order to keep it reliable (for instance position, phone number, and addresses are information often changing over the course of a project).
Every section in the record has available an Edit button that allow you modify and update the information you need it.
Searching Individuals
The search box could be helpful to search specifics individuals to prepare a meeting or collect information to analyse. Since all engagements are recorded, it is possible to consult that information prior to meet stakeholders.