What is the Distribution List register?
A distribution list is a predefined list of stakeholders (individuals and/or organisations). The Distribution lists register allows you to create and manage groups of stakeholders with common interest or with whom you engage on a regular basis. For example, you can create a list of stakeholders attending recurring meetings. Rather then selecting each participant individually you can select the distribution list corresponding to a group of stakeholders and they will automatically be added as participants to the meeting. Having predefined distribution lists is a convenient way to quickly and easily add stakeholders to your consultation records.
How to manage your distribution lists?
After creating a distribution list, select the stakeholders to be added to your list under the Stakeholders tab. When adding a new stakeholder, it is possible to:
Select an organisation
Select an individual that has a position at an organisation
Select an individual not affiliated to any organisation
Create and select an individual that is not yet in the individuals register
What is the workflow of a distribution list?
A distribution list has 2 different status: Active or Inactive.
A new distribution list record is set to Active as default.
To set the status to Inactive click on the Deactivate option under the Workflow menu. When the status is inactive, changes to the distribution list are not allowed and the distribution list is not selectable in a consultation record anymore.
Use the Reactivate option available under the Workflow menu to set it back to active.
How to work with a Distribution List?
The purpose of having predefined lists of stakeholders is to quickly and easily add stakeholders to communication records.
When editing a communication record click on the Attendees tab. Hover your mouse cursor over the Participants section and then click on the button Add members of list. You then have access to select a distribution list. Members of the selected list are automatically added as participants to the consultation.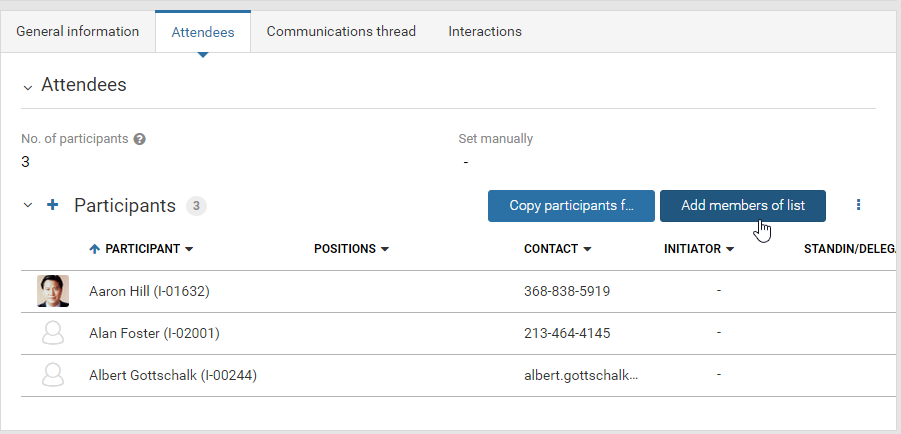 You can also add members of a distribution list by clicking the Actions button in the consultation header and select the Add members of list option.