Strategic areas of investment are used in the Investment plans, Community contributions and Strategic social investments sections, so at least one Strategic area of investment must be set up before creating new records in those sections.
To create a Strategic area of investment :
1) Click on the Social Investment module icon. Then click on "Strategic areas of investment".
2) Click on the "Add" button in the top left corner.
3) Give a name to the area of investment (e.g. Education, Economic development, Health).
The fields completed here will be part of the "General information" tab.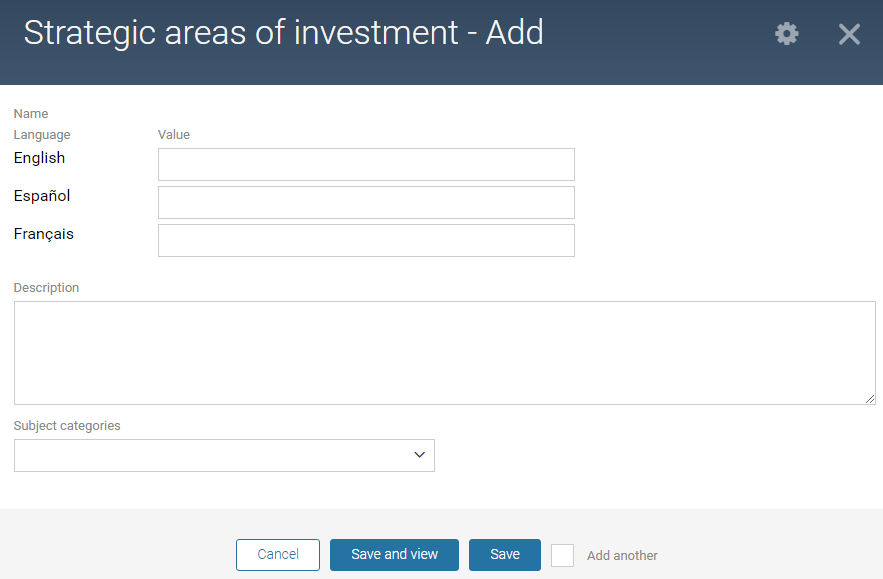 4) Click "Save and view" to save and access the newly created record.
The tab "Investments" is now available. It will be populated automatically once records in the Investment Plans, Community Contributions and Strategic Social Investments sections are created and linked to the area of investment.
Updating information
An Edit button allows to change the name, description and subject category of the area as long as its status is active.
Note: You should not change the name of a Strategic Area of Investment if it is used in a Community Contribution or a Strategic Social Investment, as this will also change its meaning for those previous requests. It is better to create a new Strategic Area of Investment for new requests and deactivate the old one so that it cannot be selected by mistake.