Data Segregation
Data segregation restricts view of data to certain users. In Boréalis application this is managed via the "Projects" list.
It is also possible to segregate data at a site level. This is available with the Corporate Pack.
Managing projects
As mentioned above, projects list is use to manage data segregation and restricts view of data to certain users.
1- Navigation
To open the Projects list, click on "Configuration" and then "Projects"
2 - Add projects
To create a new project click the "Add" button. Fill out the form and press "Save".
The Project form has 4 fields:
Project name: name that will be displayed in the project's dropdown list.
Parent project: list of current projects. By selecting a parent project, the project being created will be a child project of the parent project.
Department: enter a department associated with the project. The list is managed via the Data Dictionaries.
Description: short description about the new project being created
Note : Parent project, Department and Description are not mandatory fields.
Once a project is created, users can be provided the rights to read and/or write records referring to this project. To do so, refer to the following article Application Settings: Administration "Assigning groups to users".
3- Delete a project
To delete a project, simply select "Action > Delete".
Note: Deleting a project is permitted only if no records refers to it. For instance, you will not be able to delete a project if an individual is linked to it.
Email notifications
The Email Notifications section allows you to create automated email notifications to be sent to people. You can schedule the notifications to run at a specific time, action, etc.
1 - Navigation
To open the Email Notification register, click on the menu "Configuration" and then "Notifications".
2- Add an email notification
To create a new notification click the "Add" button. Enter a "Name" and a "Form" and press "Save and View" to access the notification form and edit it.
The following form has 2 tabs:
General
Email configuration
3- Configures the email's rules
You can configure to trigger the notification based on either a date or an action.
In Email configuration tab, enter the text that will appear in the Subject and Body sections of the email to be sent.
Optionally, if you would like the email to be sent in a language different from the default language, configure the Other Language section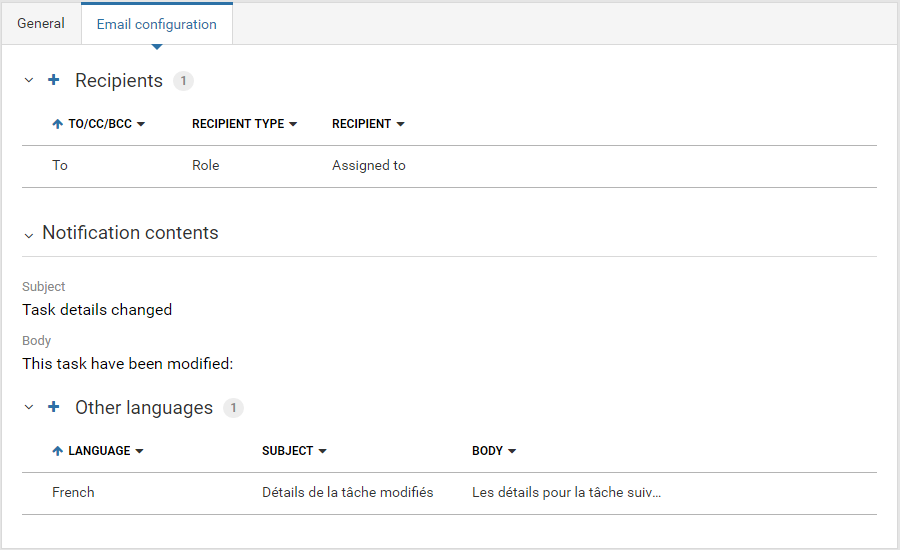 Trigger based on date
Fill in the following fields:
Number of days : indicate how many days
Before or After : the date specified
Date to compare to : reference date field of selected form
Repeat : frequency of recurring notifications
Send only when status of the record is : This is optional. If you can restrict the notification to be sent only if the record is in the specified status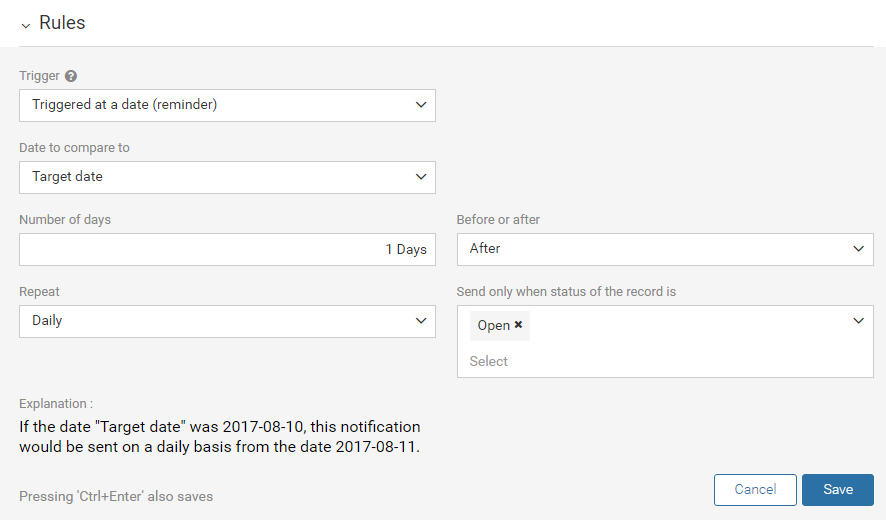 Trigger based on action
Select an action that will trigger the notification.
Select an action that will trigger the notification as well as the email limitation by registration.
4- Add recipients
To add recipients, go to the Email configuration tab and click on the + button next Recipients. Fill out the different field.
Recipient type: send the email to some users of your choice or users with a particular role or profile
Roles: send the email based on whether the recipient was tagged as Assignee or Creator

5- Activate or Reactivate a notification
Once the notification is set and ready to be activated, you can activate the notification by clicking on "Workflow > Activate". The status goes from Draft to Active.
In case a notification has previously been deactivated, it is possible to reactivate it by clicking on "Workflow > Reactivate".

6- Deactivate or Delete a notification
A notification can be deactivated if it is not required anymore or can be deleted. Note that deleting a notification will not keep any trace that this notification existed. Deactivating a notification might be the best solution in most cases.
To deactivate a notification click on "Workflow > Deactivate". The status goes from Active to Inactive.
To delete a notification, click on "Actions > Delete".
Data Dictionaries
This form lets you manage the list items to which you have access. Other items are displayed but cannot be changed.
Some items cannot be updated as they are used by the application within business rules. These items are marked as "Read only". You have access to edit those marked as "Normal" only.
Once in a list form, you can add, edit or remove a value.
Next article: Changing Password & Language , Application Settings: Administration