Overview
Introducing Communications (Goodbye, Informal Consultations and Meetings*!)
Email notifications and reminders
Analytics improvements
New Actions in lists
All geo-localized records available in map

Other improvements
Details
1. Introducing Communications (Goodbye, Informal Consultations and Meetings*!)
The difference between Informal Consultations and Meetings seemed not to be very intuitive for our users and many saw no value in separating the two. This is why we decided to merge Informal Consultations with Meetings into one entity, thus creating Communications. You'll find Communications in the exact same place you used to find Informal Consultations and Meetings, under the Engagements section of the Stakeholder Engagement menu.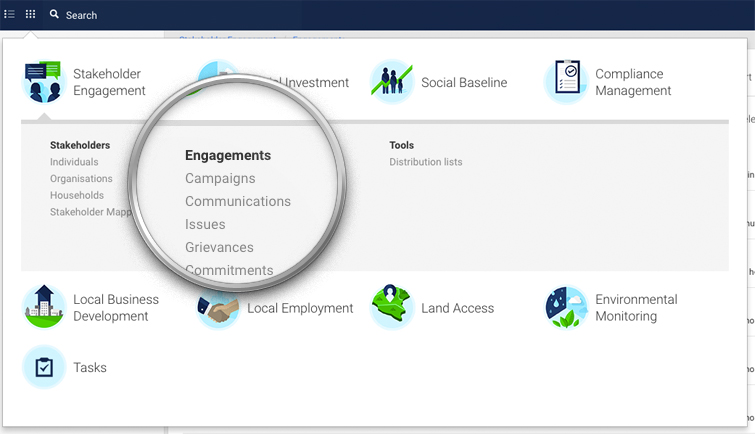 Here are all the benefits of our new and improved Communications functionality.
New Excel import. As for any Excel import, there are two ways of importing your data. When looking at the Communications list, click on Tools -> Import Excel or go in the Application Settings section (click arrow in the top right corner next to username) to see all available Excel imports and perform your import from there.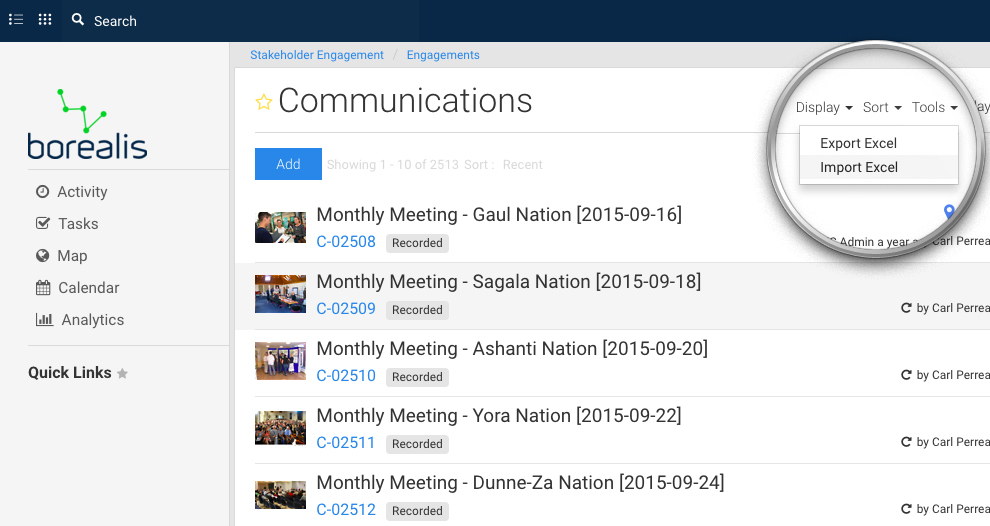 Communications thread. Link Communications together to create a thread and see all parts of the same discussion in a single place. Under the Actions list, click "Create thread" to create a new thread or "Link to thread" to link communications to an existing thread.
Improved email functionality. A while back we added the possibility to create consultations by sending an email, providing a quick and easy way to make sure all the consultations with your stakeholders are entered in the system. Emails now create Communications and when you send a reply to the system, the communication will automatically be in the same Communications thread.
Enter an address. You can now enter the address where a communication took place. The address works the same as in the stakeholders register, using Google search to automatically fill and place it precisely on a map.
*N.B.: Be assured that for those of you that saw good value in separating Meetings and Informal Consultations, the option is still available. All you have to do is check the checkbox: Is a formal communication.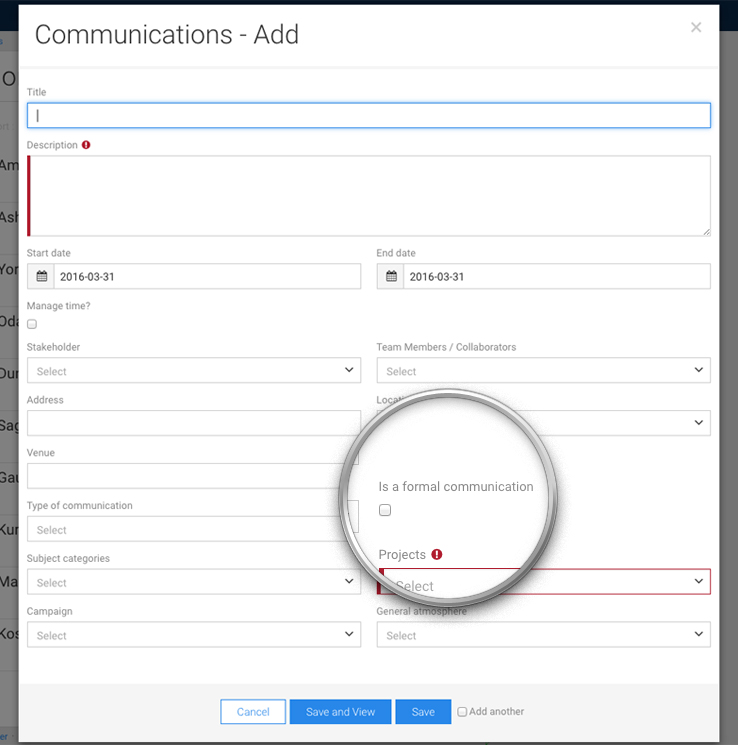 2. Email notifications and reminders
Staying up to date with your stakeholders and engagement level is now easier than ever! You can set up your own email notifications and reminders to be sent to your whole team.
You want to be notified every time a task is assigned to you?
You want your entire team to get a weekly reminder of outstanding grievances? 
You want the person responsible for an Issue to be reminded when the target date is approaching?
All of this can be set up easily. Go to the Application Settings -> Configuration -> Notifications section to set it up. Set up the trigger, recipients and subject and there you go!
Here's what your notification emails will look like: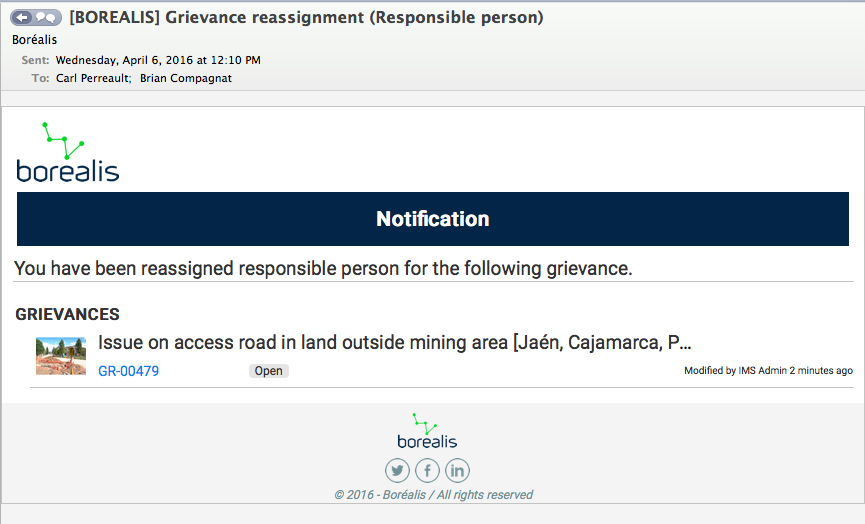 3. Analytics improvements
Introducing Maps widget to Analytics
Analytics is a tremendous tool for analyzing your data and our mapping tool is very useful to provide you with a new perspective on your data. Combining these two tools was the next logical step for us and we're happy to introduce the new Map widget to Analytics. You'd like to see a map of all your communications in the last month related to a specific topic? You can now create a map that does just that and pin it to your favorite report!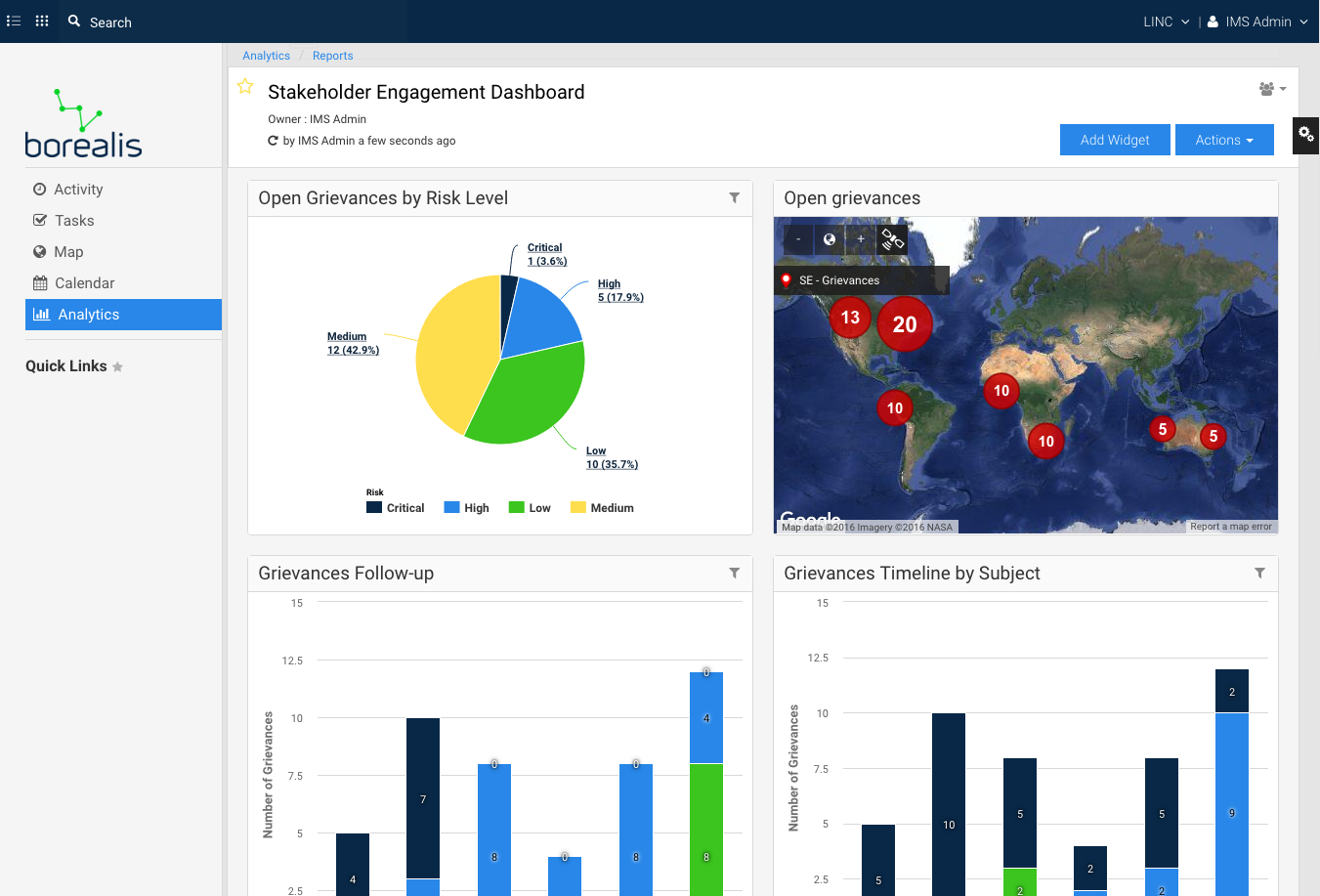 When creating a Widget, simply choose the "Map" type and all the filtering of Analytics is available to build your map. Add it to your report like you would do for any graph or table.
Drill down to access detailed information: view details behind your graphs
Every graph you create with Analytics now allows you to navigate into the data behind it. For example, if you have a chart of Grievances per status, if you click on the slice for Open grievances, you will be redirected to the list of Open grievances. If you'd like to keep the page with your dashboard open, use Ctrl-click when clicking on the graph to open a new tab.
All your stakeholders in a single list
For many purposes, it is convenient for Organisations and Individuals to be separated into different registers. But sometimes when you want to analyze your data, you want to see all your Stakeholders in a single list. When creating a widget, choose the "All stakeholders" form and you will be able to analyze the data of all your stakeholders in one place. This was inspired by our "All engagements" list that combines Communications, Issues, Grievances and Commitments in a single list.
4. New Actions in lists
One of our main concern is to make sure users are able to do the things they want to do quickly and efficiently. That's why we've added two time-saving features to our lists. Both of these new features work whether the list of records is filtered through the Search tool, column filters or in an Analytics graph.
New actions directly in list
Whether it was to link a Stakeholder to a Communication, assign a Relationship Manager to an Organization, archive an assessment, or any other action, users had to be in the form of the record that they wanted to modify to access the Actions menu.
In our concern to save users some clicks (and some time too!), it is now possible to access the Actions menu directly while looking at a list. Let's say you made a research in your Individuals and that you're looking at the list. When you hover the list, right next to the View button will also appear a "..." button. When you click it, you'll access all the available actions for the record.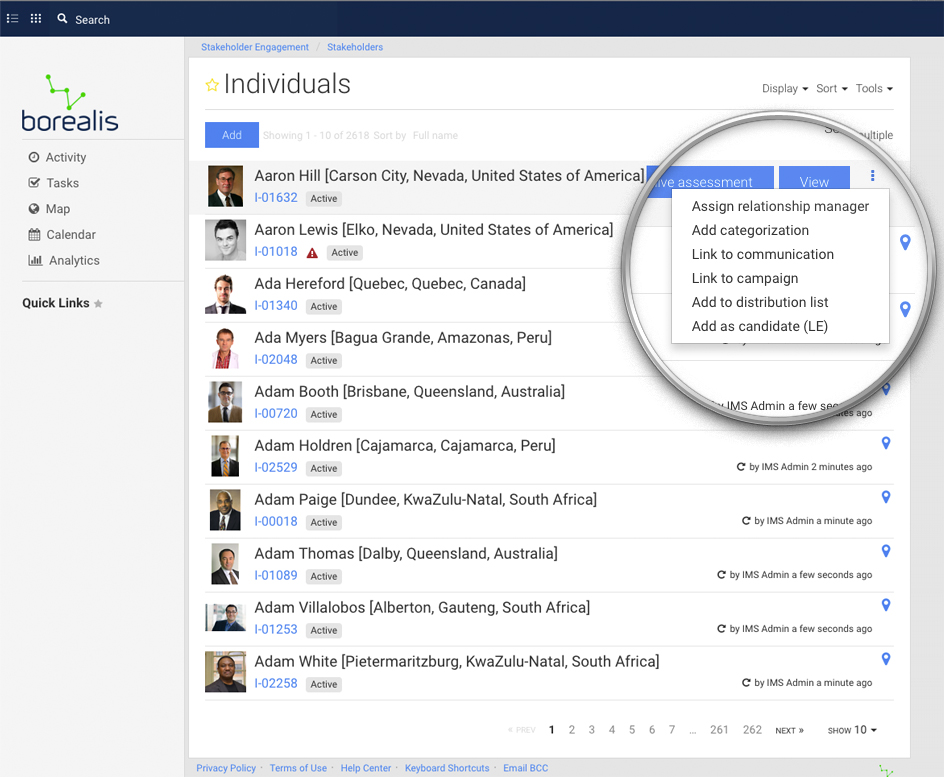 Actions by batch
This one many of you have been waiting for with eagerness. It's a close relative to the previous one too. While viewing a list, it is now possible to select multiple records at a time and make actions by batch. You will find the Select multiple option at the top right corner of the list. When you click it, checkboxes will appear next to each record (with a Select all option at the top). Also at the top of the list you'll find the different actions available.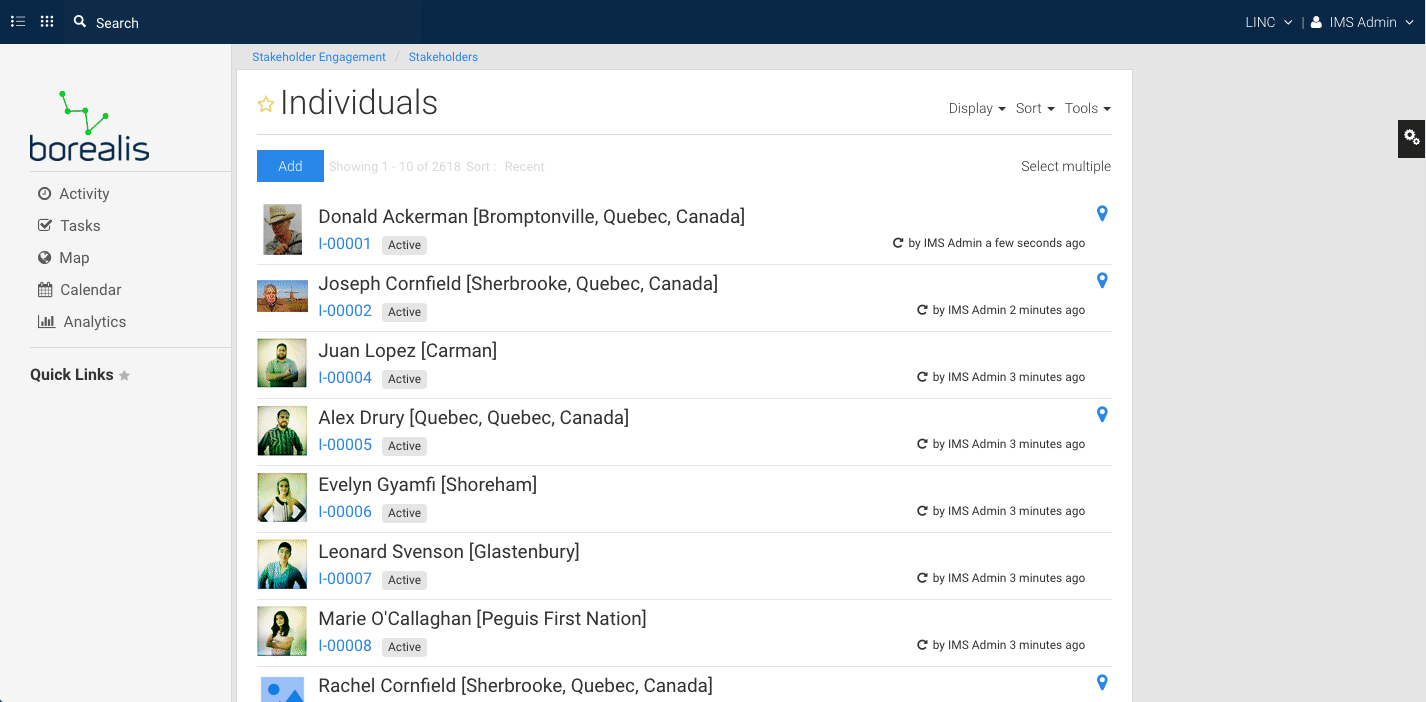 5. All geo-localized records available in map
For nearly as long as the Boréalis App has existed, geolocation has been integrated into the system. It's been useful for several different purposes, and as of now it will be even better. So far, record lists in a form were only available in on possible display: list (Detailed). For all records that are geo-localized, it is now possible to view them also in Map display.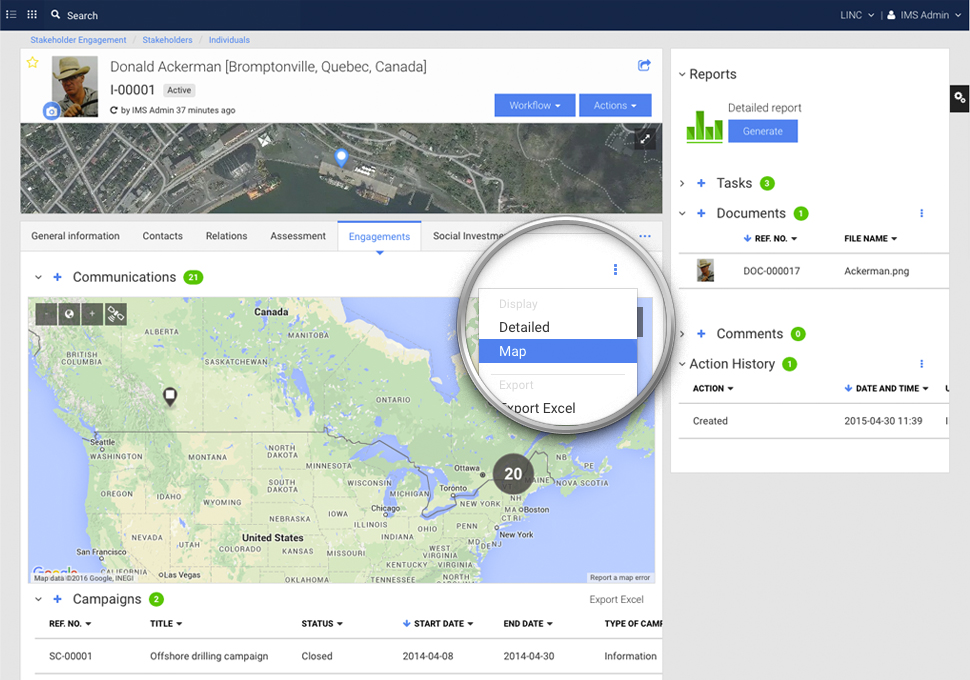 This new functionality becomes particularly interesting if:
You want to know where attendees of a communication all come from.
You want to view an individual's assets on a map.
You want to know where the contacts of a stakeholder are in relation to each other.
Etc.
In order to change to the map view (where it is available), an icon that represents "..." will appear on the right top corner of the list. When you click on it, you'll be able to chose the desired view. This is also where you'll find an Export Excel option.
6. Other improvements
Distribution lists now include Team Members and Stakeholders, thus making the creation of Communications more efficient. We also added extra fields to the General Information tab to provide more information on the list: Subject categories and Department.


Locations: We added 2 extra fields in the Locations form, Sublocality and Neighborhood. This extra layer of detail helps users identify specific areas for stakeholders. Let's take the city of New York for example. If a project is affecting stakeholders throughout the city, it makes it hard to pin point which areas are more at risk, or where stakeholders are filing more complaints. With the new fields users can know which areas of New York have more complaints.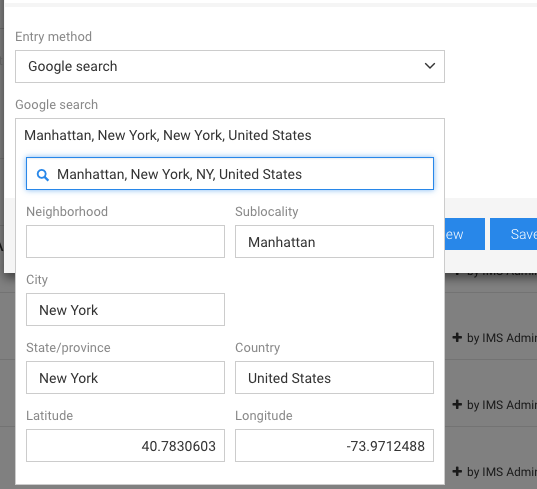 Detailed reports: Images linked to Stakeholders now appear in the reports, and are therefore available in the PDF or if printed.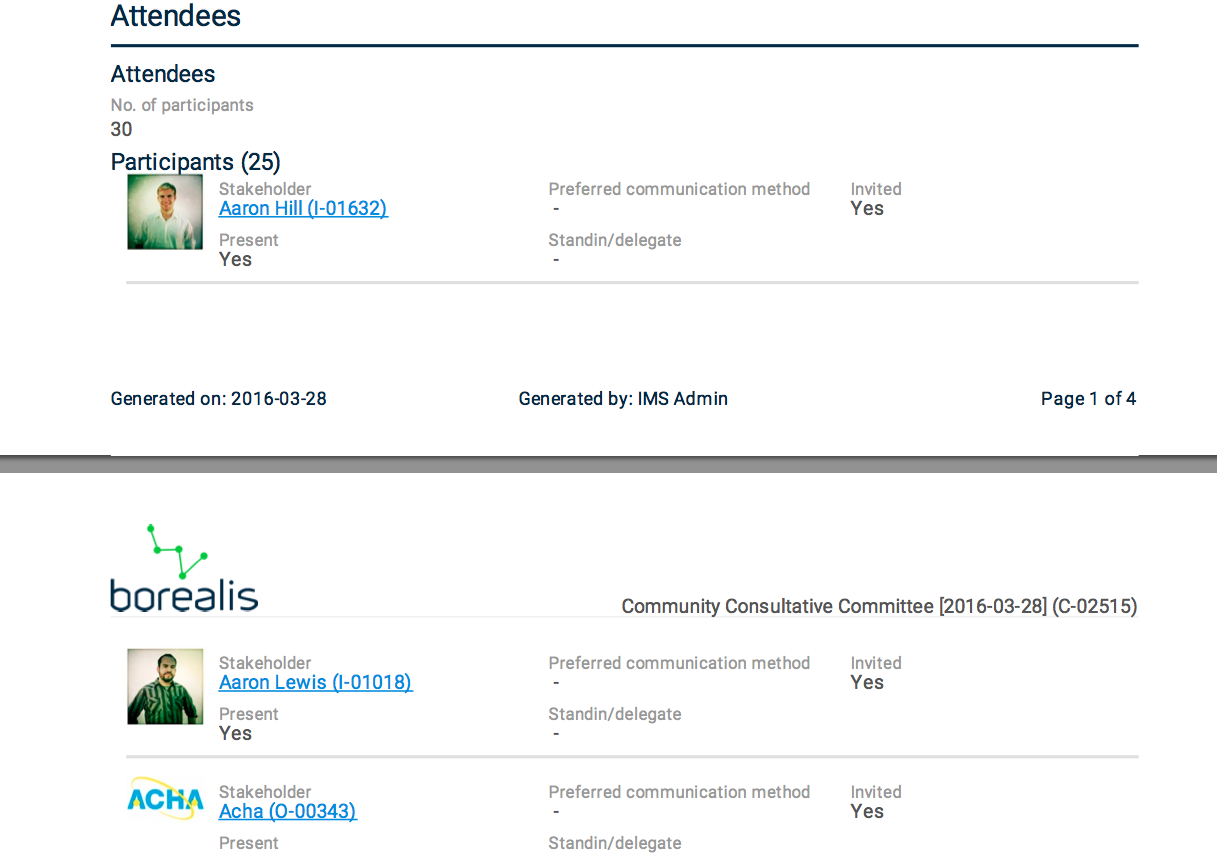 Agreement reports (Land Access): It is now possible to add the Stakeholder photo and contact info to your custom Agreement reports. This makes it easier to identify stakeholders when it's time for compensation.