With the quick links menu, pages or records can be added as favorites to access them faster.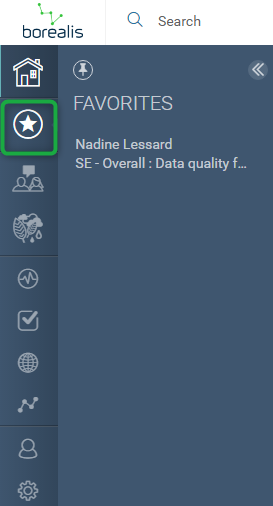 You can add links to most of the pages throughout the Boréalis Application including:
     • A specific records in registers
     • Search results lists
     • A specific maps
     • Filtered calendar views
To Add a Quick Link
You can add a quick link to any page in the Boréalis Application that displays the start icon. To add a quick link click on the start icon and change the quick link's name if desired and then click the Done button. The starts then becomes green.
To Remove or Rename a Quick Link
A quick link can directly be removed from the quick links menu. To do so, move your mouse over the quick link that you wish to remove and click on the X next to it.
You can also remove or rename a quick link by clicking on the green star icon from the record.