The Properties tab in a chart widget allows you to view and modify information based on the data set defined in the first step.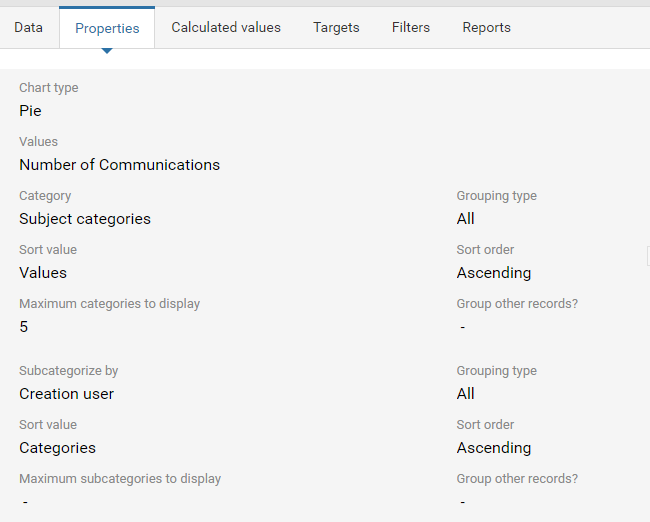 Chart type: choose the type of chart you want to display the information in (Spline, pyramid, pie, bars, etc.). The type of chart you choose will depend on the type of information you want to portray. 
Values and categories: they are similar to the columns section and let you determine which information to display in the widget. They can also be considered as axes in few graphs types.
Grouping type: You can make custom groups of data, according to predetermined values. This is similar to filters, as data is filtered according to grouping type. 
Sort Values and Sort Order: You can sort the data either per values or categories in an ascending or descending order. 
Subcategories: It allows you to group data containing the same value at a first level and also having different categories at a second level. You can drill-down in the data in a graph and instantly access more detailed information. As for the first level, you can edit specific grouping type and sorting rules for the subcategory.
Maximum to display: As for other types of charts, you can limit data appearing in a table to a certain number. To do so, enter a numeric value in the fields Maximum to display. Keep in mind that if you set the maximum to 5, only the first 5 items will display. You can set a maximum for the categories and the subcategories independently.