Overview
Help is now exactly where you need it - everywhere!
Gain time in the stakeholder engagement module, thanks to these new features
Intelligent stakeholder assessment - now even smarter and easier
The mail handler now reads email signatures to generate complete stakeholder records
What you need to know about General Data Protection Regulation (GDPR) and Boréalis
Other improvements to Boréalis
Details
1. Help is now exactly where you need it - everywhere!
Our team is dedicated to make sure your experience with Boréalis as seamless to your work and as pleasant as possible. Whether it's to refresh your knowledge of a feature you haven't used in a while or to learn about a new functionality, the help button is there to make sure you access answers to your questions in just a few clicks.

Just look for the ? in the top right corner of the screen, wherever you may be in the app: you'll instantly access a search engine to our technical documentation. Looking for information on the Stakeholder Engagement module? Just type in "stakeholder" and hit the search button. All related articles will appear. Can't quite find the information you're seeking? Simply click "Contact us" to access a contact form to share your issue and even add attachments. Our dedicated Customer Care team will get back to you as soon as possible.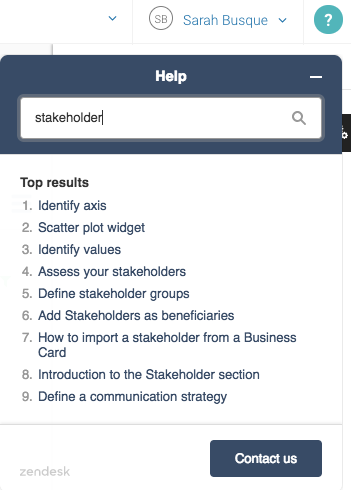 There are 2 things to remember while consulting the Boréalis help center in the application. First, it's important to know that articles will disappear when navigating between sections of the application. But no need to worry. If you'd like to keep an article open, simply open it in another tab. To do so, click on the arrow icon

in the top right corner. Please note that while all release notes are publicly available on the web, you'll need to create a Boréalis Helpdesk account to access all other articles outside the application. It's quite simple:
Simply click on Sign in in the top right corner, then Sign up.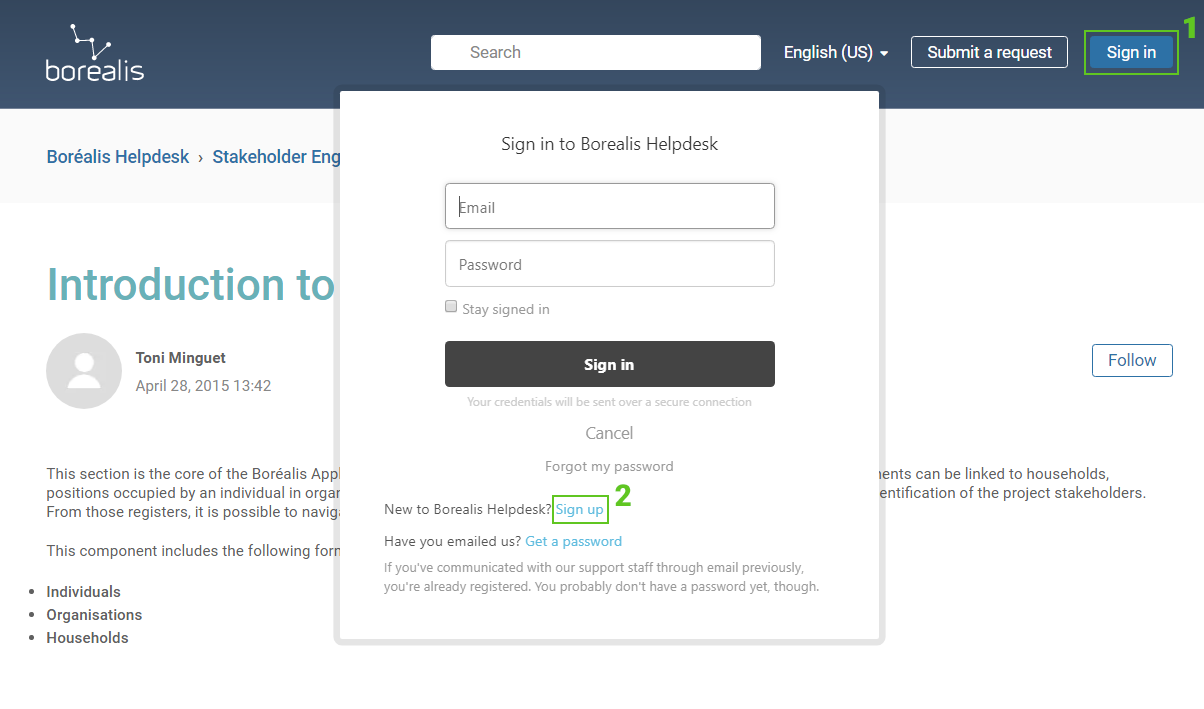 Enter your name and email and check the CAPTCHA.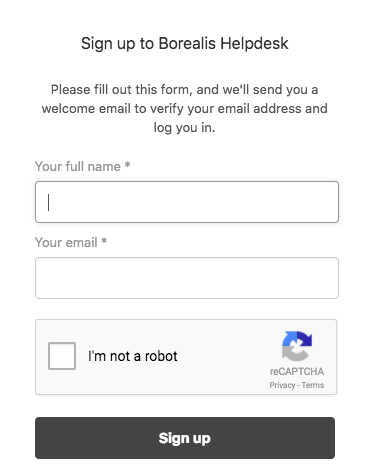 That's it! You'll receive an email invitation to set your password and you'll be all set to access our full online help center! Your account also allows you to easily manage your tickets with the Customer Care team.
2. Gain time in the stakeholder engagement module, thanks to these new features
Improved automation for duplicates management
The Boréalis Application already has a powerful duplicates management feature. But we thought it'd be nice to make it even better. The feature now takes into account more factors to identify potential duplicates, which will reduce the number of "fake duplicates." Furthermore, it also recognizes nicknames to assess records. Have a record for Bob Delaney and Robert Delaney, who both work for Power Plant XYZ and share the same email? The application will automatically flag them as potential duplicates.
Add communications directly from your stakeholder list
Quickly add a new communication to a stakeholder record, directly from a stakeholder list. While it was possible to link an existing communication to an individual from a stakeholder list in the past, users had to access the record to add a new communication.

Create an issue from an existing grievance
It's now possible to create an issue from an existing grievance: when closing a grievance with "No basis for grievance," a "Create as issue" checkbox will appear. Simply check it to automatically create an issue.

Convert communications into grievances
Was an event previously recorded as a communication in the application, when it should be a grievance? No problem. It's now possible to convert an existing communication into a grievance. To do so, simply use the Actions menu in the top right corner of the communication.

In the Actions drop down menu, just below Convert to grievance, you'll also notice a new Create as grievance action. Rather than converting the existing communication record into a grievance, this action will keep the communication in the application and also create a grievance.
Convert an individual into a staff member
Did you record an individual in the application, and that person is a member of your team? It's ok. You can now easily convert an individual into a staff member. Just use the Actions menu in the top right corner of the individual's record. If you've created 2 staff member records for the same person, you'll also be able to merge them.

Add a resolution time to issues
When closing an issue, in addition to the date, you'll now be able to add a resolution time for more precision on closeout.
3. Intelligent stakeholder assessment - now even smarter and easier!
Properly assessing your stakeholders is one of the pillars to a successful engagement plan. And it can be a very complex process. To help you more easily and accurately assess stakeholders, we've made it possible to use just two (or more) predetermined axes to automatically quantify others axes. Please note that stakeholders can inherit axes from their organization, which will impact assessment.
Because it requires a little bit of configuration, make sure to contact us to activate this feature!
For clients who have the Corporate Pack (renamed as Corporate View Add-on, it is possible to activate axes at the corporate or site levels.
4. The mail handler now reads email signatures to generate complete stakeholder records
Are you using our mail handler feature? Because it's a big time (and trouble) saver for our users. And the best is that it's available to all Boréalis users. But it just got even better: when you forward an email to the Boréalis Application, it now reads the content of signatures in the email.
This means that when you forward an email from a new person that contains a signature, the application will read its content and fill out the stakeholder record for:
First name
Last name
Email
Phone
Address
Please note that this feature currently only works for new individuals who have not been recorded in the application yet. Existing records will remain as is, keeping current information.
Where can I find the mail handler address for my Boréalis Application?
5. What you need to know about General Data Protection Regulation (GDPR) and Boréalis
On May 25, 2018 the new GDPR privacy law goes into effect across the European Union (EU): it will regulate how any organization treats or uses the personal data of EU citizens. The law doesn't only apply to European businesses, it also regulates organizations located outside of the area that are doing business in the EU. Since Boréalis is active in numerous European countries, we are committed to becoming GDPR compliant by the May 2018 deadline.
You'll notice this banner when logging into your application. Simply click Find out more to access more information, or Dismiss to remove the banner from the interface.

For more information, please consult this detailed article.
6. Other improvements to Boréalis
Social Investment module: New Excel import file for community contributions
Just like all other Excel import files, you'll find it under the Tools menu in the top right corner of your list.

Compliance Management: Upgrade to inspection forms
The configuration of the inspection forms for compliance management has been improved to ease data capture. It's now possible to configure the inspection outcome to:
Compliant or non-compliant
With observation or not (using a checkbox to automatically close observation)
Can, must have or without corrective actions
Monitoring & Evaluation: Calculations now available for symbol and drop-down parameters
With this new option, users can now benefit from the same calculations that are available for numerical parameters for symbol and drop-down parameters. How does it work? When defining symbol and drop-down parameters in a survey, you can now attribute a numerical value to it. You'll then be able to use them in calculations and in Analytics.
Improved messages for import errors
We've updated the import error messages to better assist our users in identifying missing information to ensure a successful import. Please note that imports are only available for new data, not to update existing information.