Difficulty: Easy
Records are at the basis to all information available in our software. It is important to be able to consult them and then gain the ability to create, modify and delete or deactivate them.
Individuals, organizations, communications, grievances are good exemples of records.
Access information in a Register
Once in a register, the list of records stored in that register is displayed. To consult a record, you can either click on the View button or click on the record by moving your cursor over the corresponding row.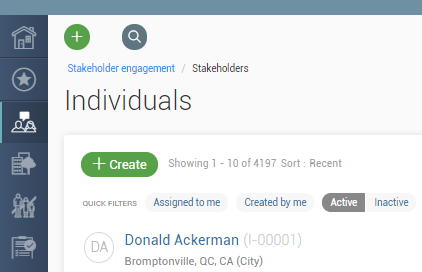 Create a new record
A record can be created from a register. To do so, simply click on the "Add" button which is located under the title of the register. You can also create an individual, an organization , a communication or a task from the "+" button at the left corner of your screen.
Edit records
To modify an existing record, first go to the record page and double click anywhere in the form. That gives you access to modify fields or fill them with new information.
Delete records
Caution should be taken when deleting information. If you are about to delete a record, ask yourself if the record is linked to something else in the system and the impact the deletion will have. In some cases, it might be preferable to deactivate the record (under the Workflow button) instead of deleting it.
To delete a record, select the Delete option under the "Actions" button.