Difficulty: Medium
Data can be imported throughout almost all modules and sections. It is really useful if you have a large amount of information to upload, or if you are transferring data from another database.
Excel templates can also be used as a way to enter data quickly without having to go to the application itself. The data can later be uploaded in a batch, for example, once or twice a week.
Data can be imported through our excel templates only. Follow these steps :
1. From the "Main menu" and scroll down to "Configuration" and from the "Data" section, select "Import Excel":

2. Each section has a different template to download. If the data to import are communication records, then the Excel template must be downloaded from the "Import data wizard":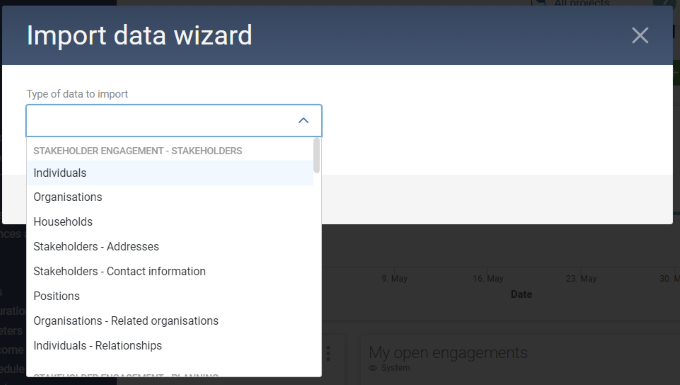 The columns in the Excel file match fields in the application. Some are mandatory to fill and others are optional. A comment "This element is required," indicates when it is mandatory.
Columns that are optional can be deleted from the template if not used. Columns can also be moved and it will not affect the data import.
3. Once the excel is complete, go back to the "Main menu" scroll down to "Configuration" and from the "Data" section and choose "Import Excel". Choose the type of data import and "Confirm" after your template has been updated:
4. If the information has been entered correctly, please wait for confirmation of your upload. If there are any errors (typos, missing required fields, etc.), the "Import data wizard" will display the row in the Excel table where a correction needs to be made. Simply correct the information and upload the file again.
Note: You can only import an Excel file into Borealis if it contains formulas beforehand. The formulas must be converted to values before importing.
If you want to attach documents to your import, you can read our article Import documents along with your data.