Difficulty: Easy
If needed, it is possible to export data in Excel format. This could be used to show data to a non-Boréalis user or to create specific Excel tables. Just keep in mind that once the data is exported, it can still be changed in the system. Therefore the Excel file can quickly become outdated.
In any list (Individuals, Communications, Grievances, etc.), click on the options button and choose 'Export Excel'.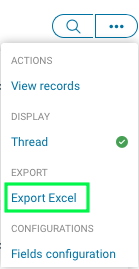 This will download an excel document of the records. The columns in the Excel report are standard and cannot be edited. If you want a custom report, Analytics should be the choice.