Important note:
The Borealis Outlook Add-in will simplify the classification and accuracy during the data conversion from Outlook to Borealis. For information on installing the Outlook Add-in, refer to this article.
This Borealis Mail Handler lets you mass create email communications in Borealis by forwarding emails in batch to the Borealis Batch email address.
After identifying the emails, you can forward them in batch to create a communication of type 'email' for each one.
Additionally, these emails can be categorized using the Borealis Outlook Add-in to improve the classification and data accuracy of the email communications created in Borealis.
Examples of Use Cases for this features
A new project being managed in Borealis has

many e

mail communications that need to be created in the system,
A Question portal receives a high volume of emails each week and needs to have that data tracked in Borealis as email communications.
Before Starting
We normally recommend to limit the size of batch emails to 10MB; however, you should contact your IT department to verify whether your email server can support emails of this size.
Identify the email address to send your batch emails to
Open your Borealis instance and enter your login information.
Click on your User Profile icon in the right hand corner of the top bar.
Click on Email integration.

In the 'Email integration' window, scroll down to Sending emails in batch.
Click the Copy to clipboard button and note down the address somewhere for later use.

Send a batch email to Borealis
The following steps work both for the Outlook Desktop and Web versions.
Open your Outlook application.
Identify and select (shift + left click) all the emails in your inbox or folder that you want to mass forward to Borealis.
Click the Forward button.
Enter the Borealis batch email address in the To field.
(Optional) - Use the Borealis Add-in to categorize the communications.
This step adds email addresses in the Bcc field to categorize the emails in Borealis more accurately.

Click the Send button to send the email.
You should receive an automated status email from the system shortly after.
Review the email log
After sending the batch email to Borealis, you should have received an automated email from the system. Reviewing this email will let you validate whether your batch emails were processed successfully by the system and whether warnings or errors occurred during the conversion process.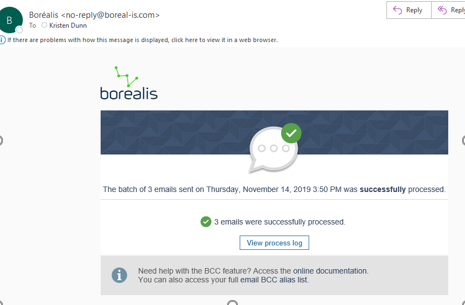 You can use the View process log button under the email processed status to open this email log directly in the Borealis application.