Difficulty: Easy
Access required: Outlook Add-in functionality
The Boréalis Mail Handler can process emails forwarded in batch and create each of them as a communication.
For example:
A new project is being managed in Boréalis and there are

many e

mails that need to be created in the system,
Question portal that receives 50 emails a week and the emails need to be created in Boréalis.
Forwarding these emails in batch will create a communication of type 'email' for each one. Even more practical, these emails can be categorized using the Boréalis Outlook Add-in!

Note: Our best practice would be to limit the size of these emails to 10MB, however it is recommended to check with your IT department to ensure that your email server will support emails of this size.
Step 1
Select the emails in your Outlook box to forward to Boréalis and press 'Forward'.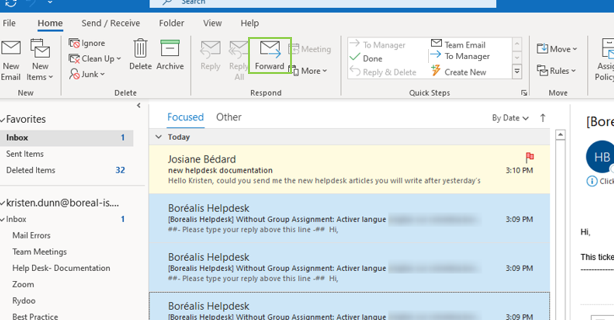 Step 2
Use the batch email address in the "To" field.

Note: The email address to use for batches can be found at the bottom of any page in the application, under Email integration.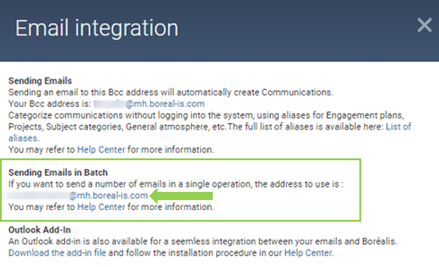 Step 3
Use the Boréalis Add-in to categorize the Communication in Boréalis; when done press 'Send' to create the communications in Boréalis.
Note: that using the Add-in will add email addresses in the Bcc field to categorize the emails in Boréalis accordingly. When done, the email is ready to be sent.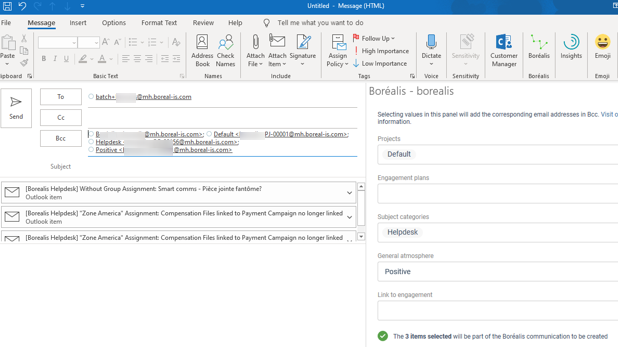 Step 4
Review the automated email received from the system to verify if the batch emails were processed successfully, or if there are any warnings or errors.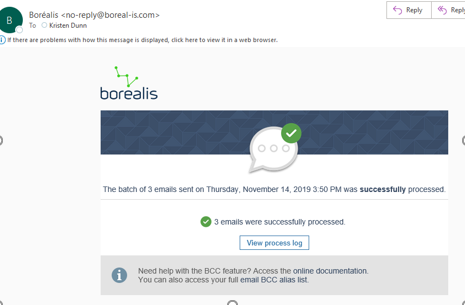 Step 5
Use the 'View process log' button to open this email log directly in Boréalis.