Featured
As you know, the Boréalis team is constantly improving our software to meet your needs and ensure you're always working with the world's most advanced stakeholder engagement management system.
This time, our 2019 Q4 Product Release brings you two special features we developed based on your feed back and comments. We are confident they will get you on the fast track to entering your data. Say hello to Boréalis Mobile App and Outlook Add-in. ;
Email integration - Outlook Add-in
Thanks to the Outlook Add-in, Boréalis will be accessible directly in your Outlook window when you write or read your emails.
The Outlook Add-in works like the Bcc but is integrated directly in your Outlook email manager. You will see the window on the right every time you write or consult an email. Just complete the right fields and send your communication to Boréalis. You will then receive a report of your activities that will confirm that your email has been saved at the right place.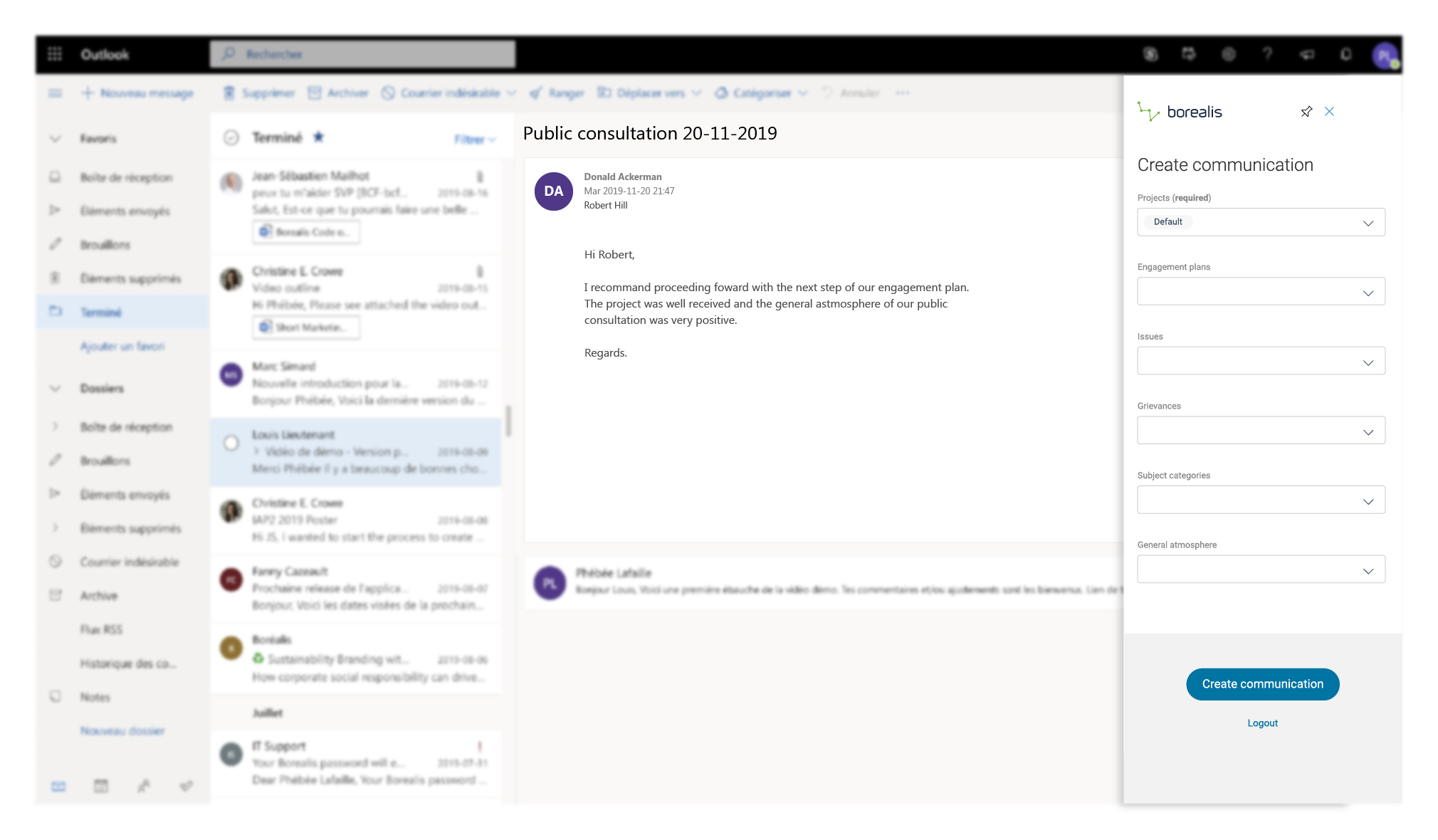 Benefits of the Add-In
Great reminder to save your communications to Boréalis right away.
Easy to use
Fewer mistakes when categorizing your communications.
Communications can be saved by batch in a clearer way.
Download the Outlook information document.
Mobile application
We know some of you are often on the road to meet with your stakeholders. This is why we created the Boréalis mobile application. Simply download it from your App store, and log in with your Boréalis authentication user and password and you're set to roam free. No need to come back to your desktop to enter your communications or add new contacts. The functionalities you will find in this first version of the Mobile App are:
Record your communications notes on the go.
Prepare for your meetings by looking up your stakeholder's information.
Create stakeholders from your contact list in your phone.
Create a new stakeholder from scanning a business card.
Use your phone's voice to text function to enter information.

Read the mobile app documentation.
User experience improvement
Faster, clearer and more user-friendly, we always try to improve your experience.
There is now a button to quickly select yourself as a participant of a communication, as a relationship manager, or anywhere you can select staff members.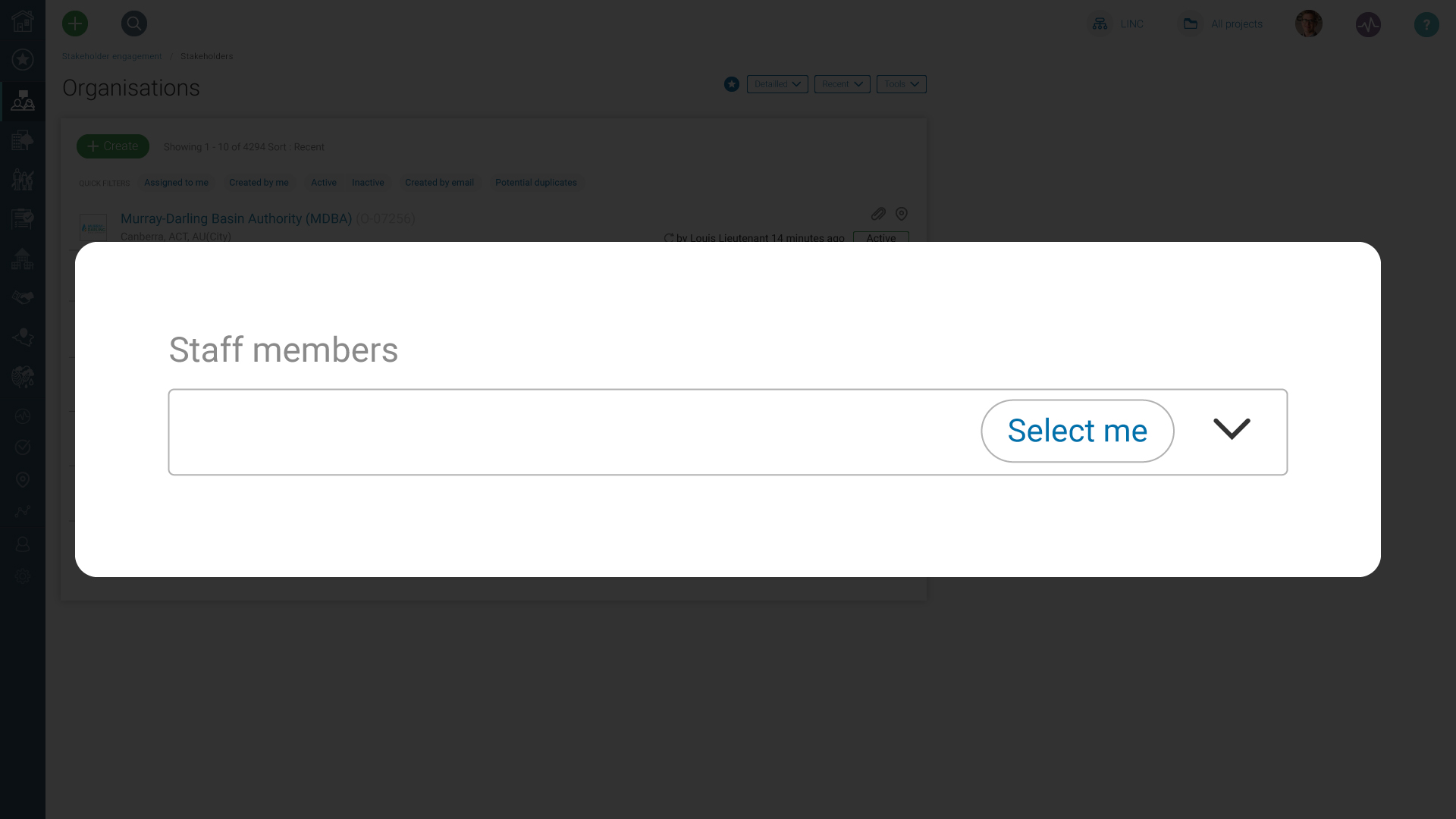 It is now possible to expand a section, for example, the "Communications" list in a stakeholder record, and enlarge it into full screen. See better - work better.
Other improvements
Excel file import improvements
We've improved once again how you can manage excel file information upload, to make your data entry even easier and faster.
It is now possible to import relationships between stakeholders.
When looking at the list of import jobs, use the new button "View records" to navigate to the list of imported records, for better validation, batch updates, etc.
The Organisations template contains a new field called, Main contact.
Stakeholder engagement—various improvements
Stakeholder engagement is at the heart of our software solution. Therefore, we are constantly improving what you can do with it and making it easier to use.
Stakeholder positions can now be removed more easily and all the interactions attached can be moved to another position.
Smart Communications, as well as, communications created using the Smart Communication functionality, now have the original email in EML format that can be opened in Outlook as an attached document.
The stakeholder duplicates suggestion algorithm has been improved.
In Communications, it is now possible to link more than one participant to a discussion point.
In Individuals and Organisations, it is now possible to ignore a duplicate suggestion even if you do not have access to the other stakeholder.
In Engagement plans, it is now possible to create new individuals when creating an activity.
In Individuals and Organisations, there is now a new action to archive all contact information.
Boréalis Analytics improvement
New actions: Change the owner of a report or add it to your dashboard directly from the list of reports.
To speed up the report creation process. It is now possible to add many widgets to a report in a single action.
Data labels on a widget can now be hidden or shown directly in the widget page.
Social investment
There is a new action to duplicate Community contributions, allowing for creating a new community contribution based on the existing one.
Visual experience improvements
Date fields now show a bit more information about the date. You will now see "Yesterday", "2 months ago", etc. (Reminder: you can change your date format in your profile page)
Deleted actions are now shown in red.
Improvements to settings and administration sections
Grant access to projects directly from the "Projects" section.
Your user profile pages now contain information on their creation and last modification, along with the last login date.
A new section called "Processed emails" lets you see the log of emails sent to Boréalis.