We know that you are often on the road to meet with your stakeholders. With our new mobile application, Borealis is easy to access. Gone are the days of going back to your desktop to enter communications or add new contacts. The functionalities you will find the Mobile App are:
Record your communications notes on the go.
Prepare for your meetings by looking up your stakeholder's information.
Create stakeholders from the contact list in your phone.
Create a new stakeholder by scanning a business card.
Basic Navigation
Once logged in you will be on your initial page. From left to right you will find:
List menu
Create

button
Search menu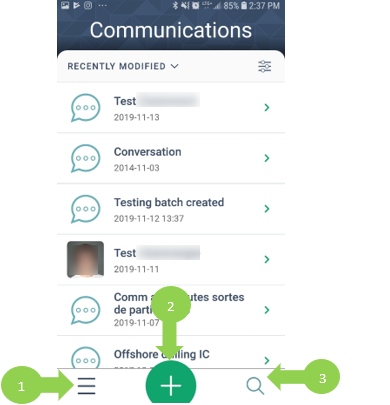 Settings
You can find the settings in the list menu located at the bottom left.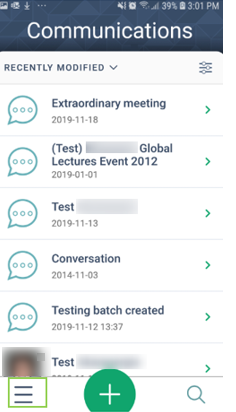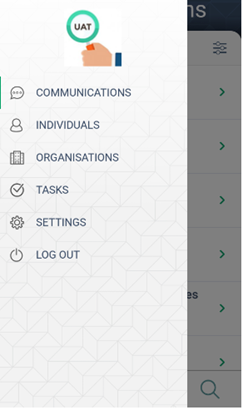 Language and Workspace URL can both be changed in the settings menu. The Initial page can also be changed in the settings. You can choose to either see a list of communications, individuals or organizations on login.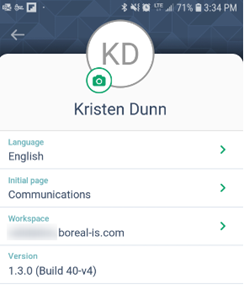 Using the <Create> button you can choose to create a new Communication, Organization, Individual or Task, by selecting the appropriate icon.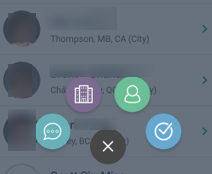 Create an Individual from your Phone's contacts
You can now create an individual directly from your phone's contacts.
Use the <Create> button
Select the Individual icon
Use the <Start from Address Book> button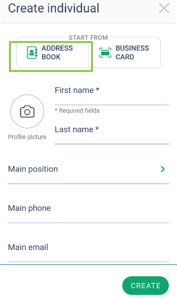 The Borealis mobile application will complete the individual's name, phone and email details that are stored in phone's address book, all you need to do is complete the rest and press <Create>.
Create an Individual from a Business Card
Using a business card, you can create a new individual in Borealis
Use the <Create> button
Select the Individual icon
Use the <Start from Business Card> button
Take picture of the business card (Landscape format)
Wait while the system reads the business card and completes the fields, then review the results and press <Create>.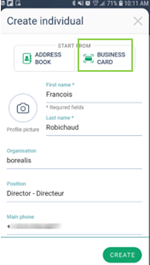 Search
Use the <Search> button, to find your Stakeholders address, contact information, update tasks, or even review the last engagements. The green action buttons on the side are interactive with your phone and will open different functions.