In the Borealis Processed email log users can review emails that were sent to Borealis using the Mail handler. Depending on the User's profiles, users may see only their emails, or emails for all the projects they have access to in the system. There are three types of statuses available: 'Success', 'Warning' or 'Failure'. Depending on the status of the email there may be next steps to take.
The Processed email log can be found in the Configuration menu: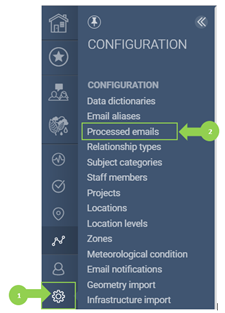 Each email in the log can be opened by clicking on the link.
To resend an email in 'Failure' status, use the 'Restart email processing' button.