Required functionality: "Team Data Segregation Add-on"
Required access: Superuser profile, or Configuration - Administrator profile
A Project in Borealis offers the possibility of grouping information from the different modules in such a way as to allow users to carry out their activities, while only accessing the information they need for their work, thus respecting the confidentiality and security of the information.
These are the main features of a project:
A Project can be established as the "parent" of another project, in a hierarchical structure of multiple levels
It can be associated with a department (or any other organizational unit in the company).
It can be associated with a specific location
It can have a start date and an end date.
It is possible to specify a project "type", by entering the specific values on the appropriate data dictionary
It can be used to further restrict access to certain confidential documents, as well as to certain fields (e.g. Stakeholder phone number).
To create a new project:
Click on the "Configuration" icon in the left menu of the Borealis application.
Click on "Projects" in the list of available configuration options
Click on the green "+ Create" button, and fill in the project information
Specify the name of the project
Specify the parent project, if this project is to be included in the hierarchy of another project.
Fill in the other relevant fields and save.
Tip: You can use the keyboard shortcut CTRL+ENTER to save.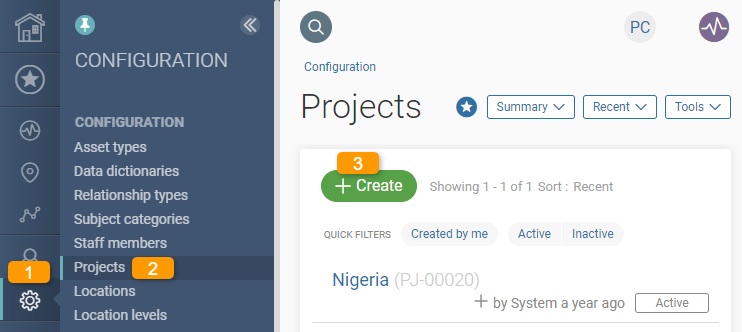 To edit a project, find the project using the search feature, open it and make the necessary changes, then save.