Through hierarchical relationships, organizations are able to create indirect connections and share additional information. When such a hierarchy is formed, organizations stay connected no matter how far another organization is related to them.
Hierarchies are composed of two entities:
Parent org

anization:

the organization ranked at a higher level, including at least one sub-level (called here child).

Child organization: the organization ranked at a lower level, always connected to at least one higher level (parent).
When a hierarchical structure expands at more than two levels, all the indirect relationships are revealed in the section "Complete Hierarchy" of the Relations tab of any organization. These relationships are automatically calculated depending on the hierarchies of the related child or parent type organizations.
To find the complete hierarchy of the organisation:
1. Open an organisation's file and under the Relations tab there is the Complete hierarchy tab.
2. As everywhere else in Borealis, feel free to use the columns' names to filter or sort data when dealing with a high volume of information. This can be done using the Relationship type tab menu.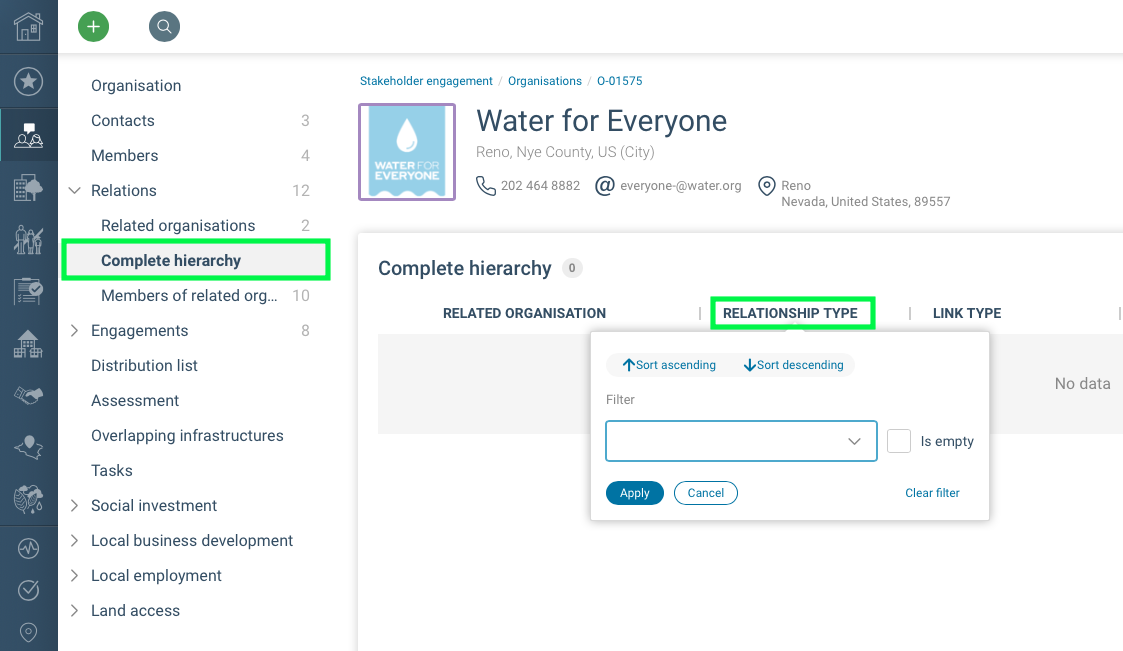 Analytics
Borealis Analytics plays a key role in providing visualizations of complete hierarchies, no matter how complex they are. For example, from a parent perspective, one may have access to particular data about indirect child-organizations and their members. Data may also refer to their communications or to any other type of interactions they have had.
Here are some examples of what information may be retrieved and viewed through Analytics widgets:
View all members of a multinational corporation and all its local affiliates, no matter how distant they are.
View all of the communications that have occurred with a national government and all its departments.
Retrieve other related records, such as various activities that are performed (grievances, engagement plans, etc.);
Active (or inactive) members within hierarchy.
Hierarchies are adding value to any organization's knowledge management, since organizations may access a variety of information about their related organizations, within an adequate security frame.