Location are geographical positions, generally used in identifying stakeholders or engagements, as well as any other type of record available in all modules.
Locations are created in the Configuration menu in two ways:
By doing a Google search
By manually entering all the information related to the location
When using the first method, start by typing the name of the location you are looking for in the Search box. Multiple choices may be available for you to pick up one: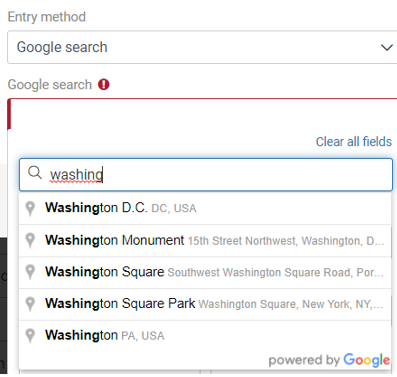 After selecting a location found through the Google search, all the necessary details about it are already filled out: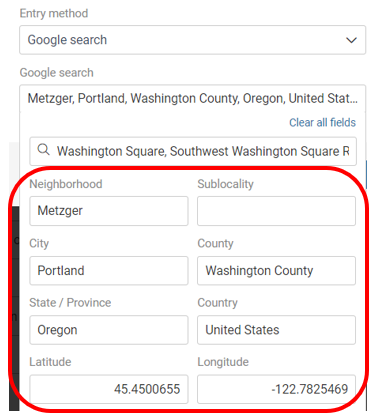 All these details will need to be manually filled in when you choose to create a location using the manual entry. By selecting the manual method, it is required to specify the level to which that location belongs. If the location level selected has a parent level already defined, it becomes mandatory for you to fill this level as well (unless the location level is a country). When needed, please remember to identify a zone as well: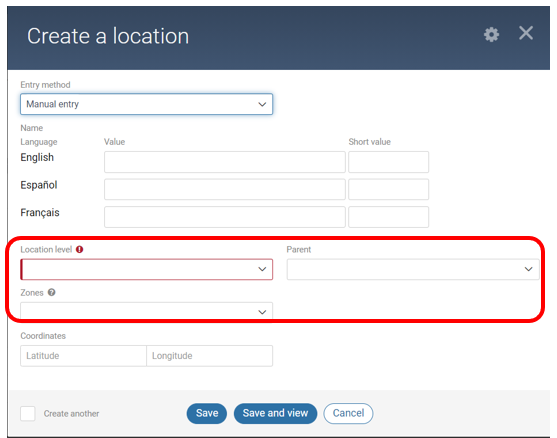 Actions
It is possible to merge a location to another one only if they both have the same location level. To do so, please use the Merge action.
If you created a new location manually, you may use the Find with Google action to fill out the missing details about it. The location name and coordinates will be replaced with the ones generated by the Google search. However, the location level and the parent level, as well as the zone will remain the same as it was manually entered. Please verify the information after using this action in order to obtain accurate details about that location (e.g., title of location properly associated to the location levels and zones).
Additional tabs
Here is what you can find out by viewing a location:
This is a list of all the locations associated to the current one in terms of its direct or indirect children. For instance, if we are looking to a city location that has no neighbourhoods associated to it, there will be no sub-locations available in this section. However, if we are looking into the country to which this city belongs, we may see sublocations such as the state/provinces or counties to which that city is linked.
Related engagements
Related stakeholders
In these last two sections, you will find all the engagement and stakeholder records linked to that location, directly or indirectly.
Example:
The communication record # C-12345 is associated to the location North Beach, a neighbourhood in the city of San Francisco, from the state of California, in United States.
When looking at the United States location, under the related engagement tab you will find the communication record # C-12345.
The same idea will apply for stakeholders.
These connections made for almost all type of records through the location perspective prove to be very powerful when doing various searches or reporting through Analytics.