It is helpful to keep a record of discussion points because it is often necessary to follow up after a communication. Borealis allows you to keep track of follow-ups and their resolution status by documenting them directly in the discussion point.
Open a discussion point that requires a follow-up or response and check the box "Requires a follow-up":

When you check this box, a new field appears. You can choose from a list of existing tasks that are not linked to another record, or you can create a new task:

Each discussion point can be assigned a status. You can choose from the standard options or add new choices by clicking on the + sign.

If a follow-up is required and a task has been associated with it, the status will be automatically determined by the status of the related task:

Initially, when a follow-up is associated with a task, the default status will be "Follow-up required", even if the task is in progress. You can change this status in the discussion point interface, from the task table on the right side of the screen: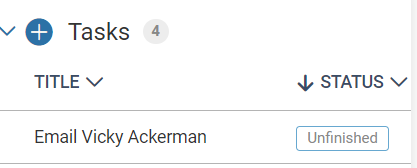 Here is how the follow-up status will be displayed, based on the status of a task:
When the task is complete, the status of the follow-up will be changed to "Follow-up completed".
If a task is cancelled, the status of the follow-up will change to "Unresolved".
The status will be unavailable if the status of the task is changed to "Unfinished".

Analytics
Interesting reports can be created using information from the discussion points. To create your own widgets, please use the "Stakeholder Management - Interactions - Communications - Discussion Points" form.
Here are some examples of situations where using Analytics can be very useful in your projects:
Create public consultation reports to demonstrate the social acceptability of a project (especially infrastructure). This report shows what communications took place, with which stakeholders, and how feedback and follow-up were managed.
Access a list of stakeholders who are opposed to, or have negative feelings about, a project.
View the history of communications, concerns, and feedback from a previous project.