The Borealis Analytics module offers powerful visual tools to help you build reports and display information about your stakeholder engagements. While it is possible to create your own widgets, Borealis also includes a set of pre-built 'system widgets' that offer out-of-the-box analytics for many common reporting tasks.
System widgets use a special privacy setting on the platform. They can be duplicated, but unlike regular public and private widgets, they cannot be created, edited, or deleted by regular users. This means you can use system widgets/reports in original form or duplicate them to customize the duplicated version as you wish.
System widgets can help you to:
Get started using the standard reporting capabilities in Borealis
Use ready-to-deploy data analytics to inform your decision making
Evaluate ways of using widgets to develop further analytics in Borealis, according to your specific business needs
To access system widgets in Borealis:
1. Click on the Analytics button in the left pane and select the 'Widgets' tab to open the complete list of widgets.
2. From the list of widgets, click on the 'Privacy' table header. Select 'System' from the drop-down menu (under the 'Filter' field). This will display a list of all system widgets, as illustrated below.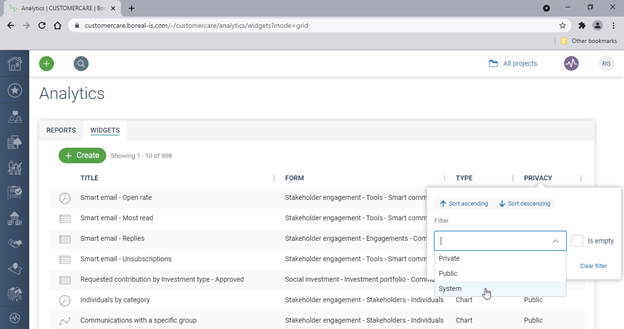 3. Click on any system widget shown in the filtered list to open it.


Please note that system widgets evolve over time as new features are developed in Borealis. You may wish to duplicate a system widget to 'make it your own' if you want to manage any changes to it in the future.
System widgets provide a simple, convenient way to start analyzing your data in Borealis. To learn how to take data analysis to the next level, learn how to access system reports in Borealis.