An individual may hold multiple positions within the same organization or in different organizations. An engagement with a stakeholder often takes place because of the position they hold within an organization. Borealis system allows the rigorous management of multiple positions of an individual, ensuring that all interactions are related to both the individuals and the organizations they represent.
The importance of the position when engaging in a communication
If an individual holds multiple active positions, it is possible to select the most relevant one that is related to the communication to which they attend. By default, participants are listed according to their main position, if they have one. However, when selecting attendees, you can use the small arrow under the name of a stakeholder to select another position.

Each position can be assigned a specific email address. When processing automatic emails (e.g. using the Outlook add-in), the correct position will be selected automatically based on its email address.
Identify a stakeholder by their position
When an individual has a main position identified, that position will be displayed to identify the stakeholder throughout the system.
The Borealis system goes even further in managing stakeholders and their engagements. If you identify a main position, you can choose to automatically link all their engagements to that position.
To do this:
Open the individual's record to edit it and go to the General Information tab;
Make sure that there is a main position listed in the corresponding field;
Check the box in the "Always link interactions to the main position" field;
Save your changes.

For individuals who hold multiple active positions, it is possible to set any position stored in their record as their main position. Simply go to the Relations tab of an individual's record and select the "Set as Main Position" quick action in the Positions section.

Change of organization and position of an individual
If an individual moves to a new organization, it is recommended that you deactivate the old position by entering an end date. Once this date is reached, the position becomes inactive and you can then create a new position for the new organization. In this way, the history of their previous engagements will be preserved.
Correct informations related to positions
If the position has been entered in the wrong organization or if the same position has been created twice by mistake, there are two actions in the Borealis to make this type of correction: merging and changing the organization.
Through the quick actions menu available for each position in the record of an individual, you can perform a merger of positions or a change of organization: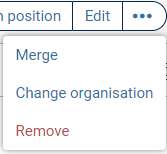 Merging multiple positions can only be done for positions that are within the same organization.
The action of changing the organization of a position should be used mainly to correct a wrong organization.