Get More Out of Your Reports with Report Filters
October 19, 2021
Required Access: Superusers
As a Borealis Superuser, you probably use reports on a regular basis to monitor progress, track KPIs, and identify missing information in your records.
As helpful as reports are, you can make them even more useful and flexible with report filters.
What are Report Filters?
In Borealis, reports are made up of Widgets. You can apply filters to those Widgets to make them display only the information that you need.
Report filters let you work from a single, customized management report and filter as needed to isolate specific information. You can apply filters to find details about a certain user, location, organization, asset, or for a specific period of time. This is a simple way to review your data from different angles without the need for additional reports.
How are Report Filters different from Widget Filters?
Like Widget filters, report filters help you drill down into your data to highlight certain information; however, report filters can be applied to multiple Widgets in your report at once instead of changing them one at a time. This is a real time saver – particularly if you monitor a lot of data!
New Report Filters
Since we launched report filters in March 2020, we have continued to add new filter options with every release. The newest option is "Issues", which lets you filter your data – like communications – to focus on a particular issue. You can also filter reports by Location, Staff, and Organization. In fact, once you're comfortable using report filters, you may decide to choose different Widgets in your reports.
How to add a Report Filter
To add a report filter, open the report and click on the Actions menu:

From there, select "Report Filters".
Click on the "+Add filter" button. The default name will be the title of the report filter you selected, but you can also change the name (e.g., if you'd like to use a descriptive that will tell your users how to use the report).
Select the field you want to filter and a value.
Next, choose the field to filter in each relevant Widget, then click save. Note that you can add multiple report filters to a single report.
To remove a filter, select "Report Filters" from the Action menu and click the red "Delete Filter" icon.
Practical Uses for Report Filters
Report filters make it easy to drill down from the big picture view to focus on finer details in an instant. Let's look at a few practical ways you can use them.
User/Manager Reports
You can use report filters to better understand your team's activities. Each team member's dashboard shows them their own tasks, activities and goals for the week. As a team leader, you can view daily reports for your team(s) as a whole, or filter by user to see how things are progressing.
You can also use filters to evaluate performance during a certain period of time.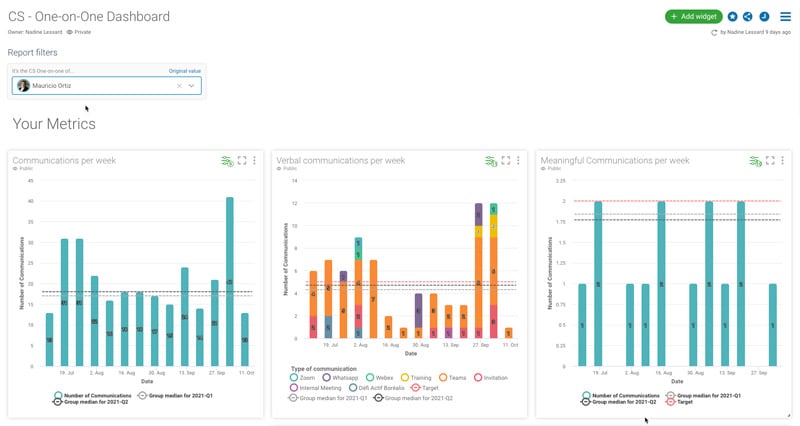 Filter communications by date
If you have an indicator Widget that lists all communications and you want to filter by date, you can choose the "creation date" of the communication. When the report data is filtered, the indicator will show the number of communications created during the period you specify.
You can also filter by the "communication date", to show only the communications that actually occurred during the given period. (In this case, it would be a good idea to include an additional custom filter for "communication status = recorded".)
In the example below, the Widgets are already filtered with a report filter. We applied an additional custom filter to the Widgets on the left to show "planned communication status" and another to the Widgets on the right to display "recorded communication status".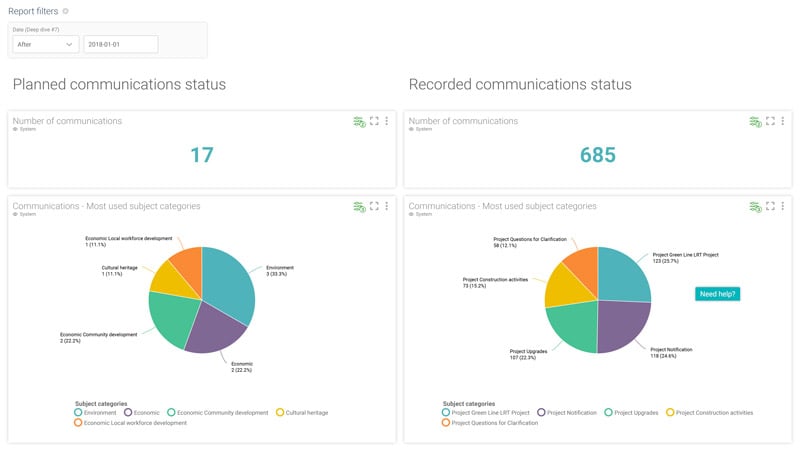 Start from standard System Reports
Several of the standard Borealis System Reports contain built-in report filters. If you're just getting started with report filters, you don't have to start from nothing! Simply duplicate one of the system report you want to use and then modify it to meet your needs:
Engagement statistics and data quality - Organisation
Smart email statistics
Activities follow-up (for Engagement plans)
For more information about Reports in Borealis
If you'd like to learn more about using reports in Borealis (or if you need to refresh your memory), here are a few articles you might find helpful:
Tip of the Month
Did you know that you can also push reports to your users' homepages through their user profile? Access the user's profile and navigate to the Home Page tab. You can add the report by clicking the green "+" button.