New System Reports in Borealis
March 03, 2022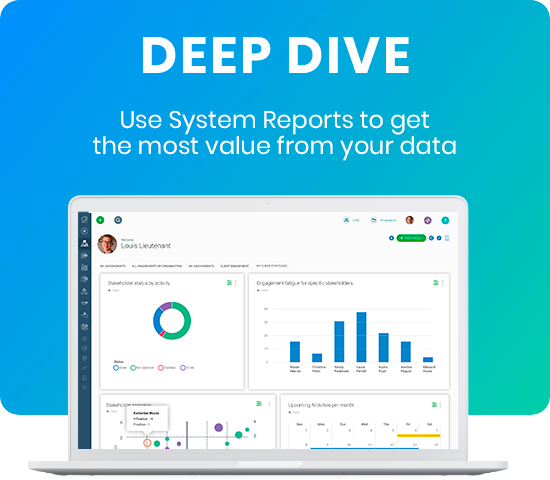 Using system reports is a great way to get the maximum value out of your data. Did you know that we regularly add new system reports to Borealis?
Wait a second… what are System Reports?
System reports are standard reports that are built into Borealis. They are ready to use "out of the box" and are designed to cover a variety of common reporting needs. System reports are based on stakeholder engagement best practices. We invest a lot of time and effort to make them as meaningful as possible!
What are System Reports good for?
Your team enters a LOT of data in Borealis. Have you ever wondered what Borealis can give you in return?
Maybe you'd like to get better insight into your initiatives, but you're not sure where to begin. Sometimes there are so many possibilities that it's hard to home in on what is truly important. If you're not sure what you want to see in a dashboard, system reports can be a great starting point. Simply find one that seems appropriate, then customize it to your needs.
How do I use System Reports?
There are three types of report in Analytics: Public, Private and System. To browse through the available system reports, simply open Analytics then filter the Privacy column for "System".
Before you start using a system report, we recommend that you duplicate it and give it a name to make it your own, then you can change the layout, add report filters, and otherwise customize it according to your needs.
Take some time to investigate the reports on usage metrics to be sure that your team is using Borealis to its full potential.
Make sure that managers and team leaders have the correct reports on their dashboards.
Push reports to your users' homepages through their profile.
You can also add system reports to Individual and Organization records to add value to your users' work. (We'll discuss this in greater detail in an upcoming communication!)
New System Reports
Let's take a look at a few new system reports that can be really helpful for Superusers.
Smart Email Statistics – if you use the Borealis Smart Communications feature, this new report serves as a central hub for messaging data. Check open rates, top users, unsubscribed recipients, replies, and track trends over time.
SI - Status Report : Current Year – for those who use the Social Investment module, this report can save you a lot of time. It provides an overview of the community contributions and strategic community investments by investment plan.
Issues Review – easily evaluate issues by subject, status, risk level, target date, responsible person, resolution time, and more.