Use Email Notifications in Borealis to help keep your team on track
March 31, 2022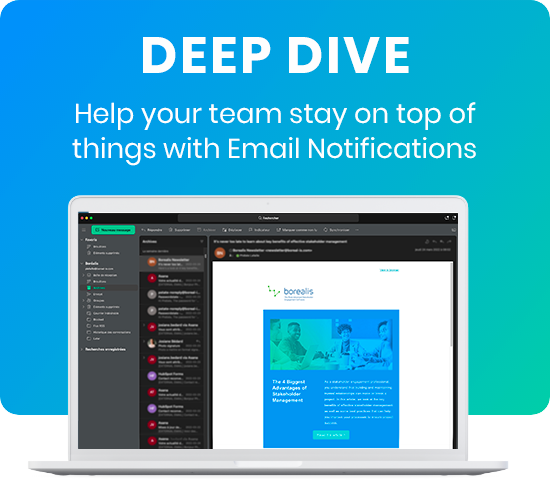 Given the pace of today's world, you probably use different types of notifications on a regular basis. Whether it's a reminder from Outlook about an upcoming meeting, an announcement that an update is available for your web browser, or a warning to confirm that you're logging into an account from a new location, notifications draw our attention to matters that need to be addressed at the right time.
Did you know that Borealis includes built-in email notifications that you can activate and configure for your needs? They're a great way to keep your team informed about what's happening in the system, what needs to be done, and when. Let's take a look!
Using email notifications in Borealis
Borealis allows you to create and configure notifications for tasks, activities, and most forms. In addition to saving you time, they can also protect your organization's reputation by ensuring that you don't miss important deadlines or commitments. Notifications are even mandatory for certain processes (like grievance management, compliance issues, payment processing, and more).
You can create two types of notifications in Borealis: Alerts and Reminders.
Alert notifications
Alerts are instant notifications triggered by an action or event, such as the creation of a task, or a change in status. Alert notifications prompt users to respond to something that has changed in the system. For example:
When someone makes changes to your stakeholders' records
When a task you created has been completed
When a risk has been escalated and steps must be taken to resolve the problem (some extra user profile layers can be activated to address issues like this… contact your Customer Success Advisor to find out more!)
Reminder notifications
Reminders are triggered based on a specific date. Reminder notifications prompt users to complete an obligation on time. They can be sent before or after a target date and set to repeat on a regular basis. For instance:
When a task you need to complete is due
When you need to conduct a stakeholder verification by a certain date
When the end date for a position is approaching (e.g., elections, mandates, etc.)
When you need to follow up with a stakeholder a week after an event
Considerations when using notifications
It's important to ensure that the notifications you implement are consistent with the behaviors you want to encourage or adjust. If the instructions are vague or otherwise unclear, users may ignore them. Here are some best practices to bear in mind:
Make sure that your notifications clearly explain what users need to do with the information provided.
Don't spam users with so many notifications they can't keep up. You can limit the sending frequency in the configuration settings.
Ensure that notifications are sent to the right recipients. When you create a notification, you can identify recipients by profile, user, or role. You can choose to target multiple recipients in each to, cc or bcc field.
If you work with multi-language teams, the default notification language will be the language used to create the notification. You can add translations in other languages which will be sent to users who use the platform in those languages.
Consider reviewing notifications as part of your quarterly routine to be sure that they're still relevant. If you want to temporarily pause a process, you can simply change the notification back to "draft" status.
New in 2022: Extra Support for Users
Did you know that we've begun hosting webinars to help users brush up on their Borealis skills? Sessions last about an hour and cover the basics – like how to create individuals and organizations in the system. They also include a Q&A period to be sure users get the support they need. These refresher courses can be particularly helpful for new users who have recently joined your team – or for those who have been out of the loop for a while.