Overview
Many improvements are coming to your interface soon
New and improved dashboards in Analytics – Tasks and Stakeholder Engagement
New actions available in Communications
Manage locations by zone – new reporting approach
Automatic save when changing tabs – no more pop up
Add a Position and more from the General information tab of an individual
Batch updates for Tasks and Campaigns*
Don't need them? Remove them! Hide fields in Tasks and Social Investment*
Unlock and edit communications (meeting invites) you send to the system
New Summary section for compliance documents – Compliance Management module
Display average on graphs in Analytics
Details  
1. Many improvements are coming to your interface soon
We're thrilled to announce a major investment in our user interface and experience. The upcoming releases will thus include both major (nothing scary, just exciting stuff) and minor (you'll barely notice these, but they'll make navigation experience so much better) improvements to simplify your day-to-day usage of the Boréalis Application. Stay tuned for details!
2. New and improved dashboards in Analytics – Tasks and Stakeholder Engagement
Tasks
We're thrilled to introduce 2 new tasks dashboards to your Analytics.
My Tasks: This dashboard offers an overview of all your tasks as a user, including tasks for which the target date has been exceeded, that have been open for over a month, deadlines, assigned tasks and open tasks without a target date.
Management and follow-up: This dashboard offers an overview of your team's tasks, including tasks for which target date has been exceeded (by priority or assignee), that have been open for over a month (by assignee), deadlines, task priority by assignee, due this week, open tasks (by assignee), and open tasks with exceeded latest start date (by assignee). 

Stakeholder Engagement
We've improved 2 of your stakeholder engagement dashboards: Activities of the last 12 months and Data quality follow-up. Among improvements you'll notice better filters, language adjustments and more.
3. New actions available in Communications
Merge communications threads
Communications threads provide a useful way to group communications that are linked to one another. If for some reason, you have 2 communications threads that belong to a single thread, you can now merge them by using the "Merge threads" button that appears in the top of the list as you hover the Communications list.
Copy participants of a communication
Would you like to add participants from a previous communication to a new or other existing one? Well, you can now easily do so using the Copy participants option in the Attendees tab of a communication. As you hover the list of participants, you'll notice the Copy participants option appearing. Clicking on it opens a dialog window that lets you select a communication for which 3 options are available: copy either all, only present or only absent participants.
4. Manage locations by zone – new reporting approach
For some of our clients, managing stakeholders by location doesn't necessarily mean using cities, states or other predefined geographical divisions. Their reporting needs are by specific zones tied to their projects. For instance, a mining project could have 4 different zones: a mine site, a railroad, a transformation plant and a port. Each one of these zones will have an impact on different stakeholders, thus explaining the need to report on activities for each of these zones. One zone could include several cities, and some cities can be part of more than one zone.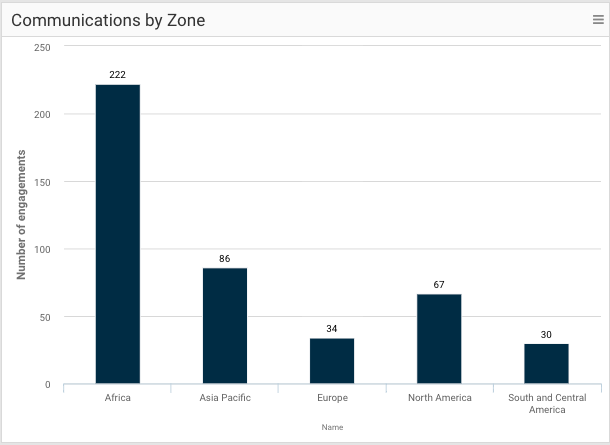 The best part about this new feature: since zones are linked to locations, there's no additional effort in terms of data entry (if your zones are already registered of course). It offers a new reporting approach for clients who want to report on activities by zones they establish. You can add zones either directly from your Locations, or in Zones, both of which you'll find in the Account settings > Configuration menu.
5. Automatic save when changing tabs – no more pop up
As you're navigating and editing the different tabs of a record, you don't have to click "Save" every time you're changing tabs anymore: the application will automatically save your edits. Up until now, users had to either click the "Save" button at the right bottom of forms or click "Cancel" on the pop up box to keep editing and save their current edits. 
6. Add a Position and more from the General information tab of an individual
Up until this release, some fields could not be filled directly from an individual's general information tab if they had not been recorded previously. For instance, if a Position or Address were not already existing in the system, users had to create them first in their specific tab, and then select them in the drop down menu in the general information tab. Updating stakeholder information will thus be faster thanks to this feature.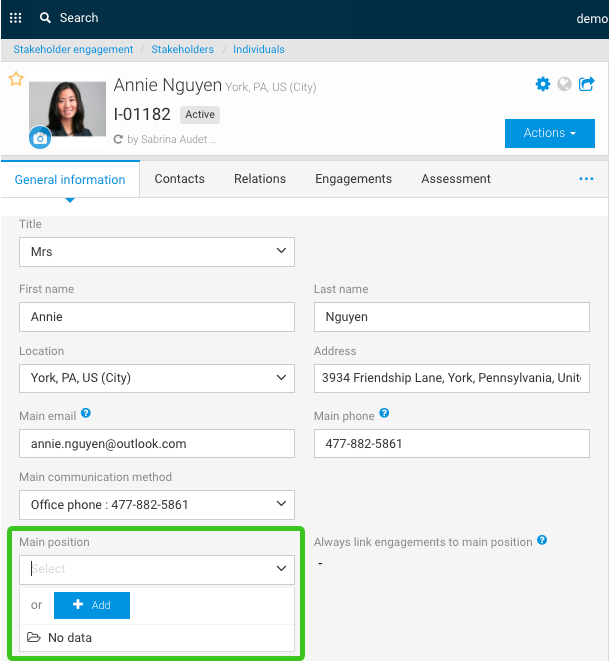 7. Batch updates for Tasks and Campaigns

Remember how we introduced batch updates for some lists in the Stakeholder Engagement module last October? This feature is among the top time-savers for our users and we're thrilled to extend it to Campaigns and Tasks. Simply click on Select multiple in the top right corner, then select the records you want to update, click the Batch update button and select the information that needs to be updated.
8. Don't need them? Remove them! Hide fields in Tasks and Social Investment

This is also the extension of an existing feature that our users enjoy. For both Tasks and the Social Investment module, it is now possible to hide fields that are irrelevant to your needs. Users can access the Fields Configuration menu by clicking on the gear icon in the top right corner of records. Just like for the Stakeholder Engagement module, required fields cannot be hidden. You don't see the gear icon? Use the … menu to access Fields Configuration.
Remember, there are 2 levels of configuration for this feature:
Superusers can maximize the entire module's interface by choosing available fields, which will be available to all users (using the For everyone tab)
Regular users can maximize their own interface by choosing the visible fields, without any impact on other users (using the For me tab)
9. Unlock and edit communications (meeting invites) you send to the system
Another great feature we added last October was the creation of communications using the meeting invites directly from your mailbox calendar. So far, it's been impossible to edit the communication once it is created in the Boréalis Application. The logic behind that is that attendees would not receive the updates, as they would in when you're updating a meeting in Outlook for instance. But since users started using this feature, it became clear that there was a definite need to edit the communication recorded in the application. Why? What if you need to update the list of attendees post-meeting? Or if you'd like to add minutes of meetings with issues raised?
That's why you can now unlock any communication that has been created with a meeting invite from your calendar. To do so, simply use the Actions menu at the top right corner of the communication and click on Unlock. Once the communication is unlocked, the application will notify you that all changes you make from now on will not be sent to attendees and only apply to the record.
10. New Summary section for compliance documents – Compliance Management module
In the General information tab of Compliance documents, you'll now find a Summary section, which offers a sneak peak of various indicators, including number of: conditions, compliant conditions, non-compliant conditions, open corrective actions, completed corrective actions, open inspections, and closed inspections.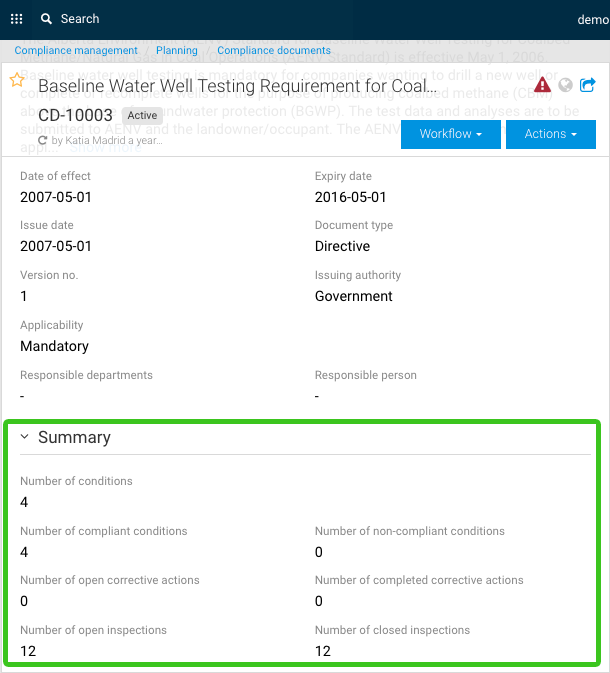 11. Display average on graphs in Analytics
If you'd like to display the average result in the background of graphs where it is relevant, it's now possible. Simply edit your widget and check the "Average for categories" checkbox in the Properties tab.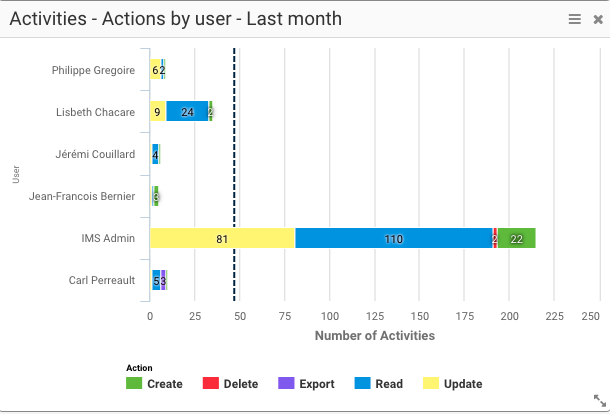 --
PRO FEATURES

PRO features (PRO pack) are a set of advanced features that we develop for clients who need to get more out of their data, want to increase the level of productivity of their team and get a more in-depth analysis of trends. You'll be able to identify these features as they are marked by the PRO seal. Future releases will therefore include improvements to both regular and PRO features. Please note that while regular features are available to all users, PRO features are available only to users with the PRO pack. If you'd like to learn more about PRO features, please contact your Account Director.