Overview
Improve efficiency and data quality with the mail handler feature

It's now even simpler to report across multiple sites (Corporate Pack)

Easily filter data per project

Ongoing improvements to user experience and interface

Do you know we have keyboard shortcuts in Boréalis?

Selection lists just got a makeover

New features for the Monitoring & Evaluation and Compliance Management modules
Details
1. Improve efficiency and data quality with the mail handler feature
Categorize your communications directly from your emails
Our email Bcc function (or mail handler) helps users automatically generate a full communication record in Boréalis, including title (subject of email), description (body of email), date, time, participants, type of communication, and more, directly from their email service (like Outlook). In order to improve this feature's efficiency, it is now possible to categorize your communications without having to log into the application for:
Campaigns

Projects

Sentiment

Subject categories
You'll find the complete list of all the elements you can add to your email in Application Settings --> Export vCard.
Using this feature takes 2 clicks: either download contact information (Export vCard) or copy the email to your clipboard, and then add them to the Bcc of your email. Should you download contact information or just copy-paste the email? If it's for a Campaign that you'll be updating frequently, you should export the vCard to add it to your contacts. If it's a one-time deal, just copy-paste the email to the Bcc.
To access contact information, simply use the blue arrow next to the record's number: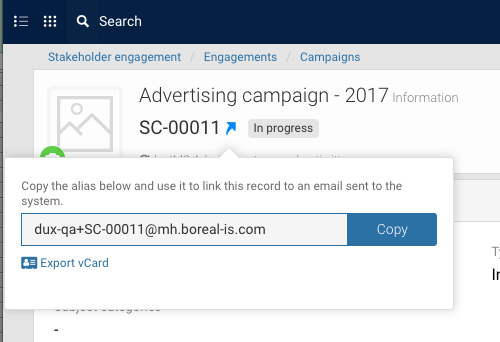 Once the contact information has been added to your contact list (or if you copied the emails, once they've been pasted), you'll be able to further categorize your email communications directly from your mailbox, without having to log into Boréalis. In the example below, the communication and stakeholders will automatically be linked to the campaign "Advertising campaign - 2017".

How to link a campaign to your email:
There's now more details in notification messages when creating communications by email
If you're already using the mail handler, you're used to receiving a notification message that confirms successful record creation (which recently got a visual makeover). Making the system work for you so you can focus on other things is a top priority for us, and data quality is very important to achieve that. That's why we improved this email notification so you can fix any inaccuracies:
More details on record (description, projects, participants, etc.)

Data quality notifications

Improved email subject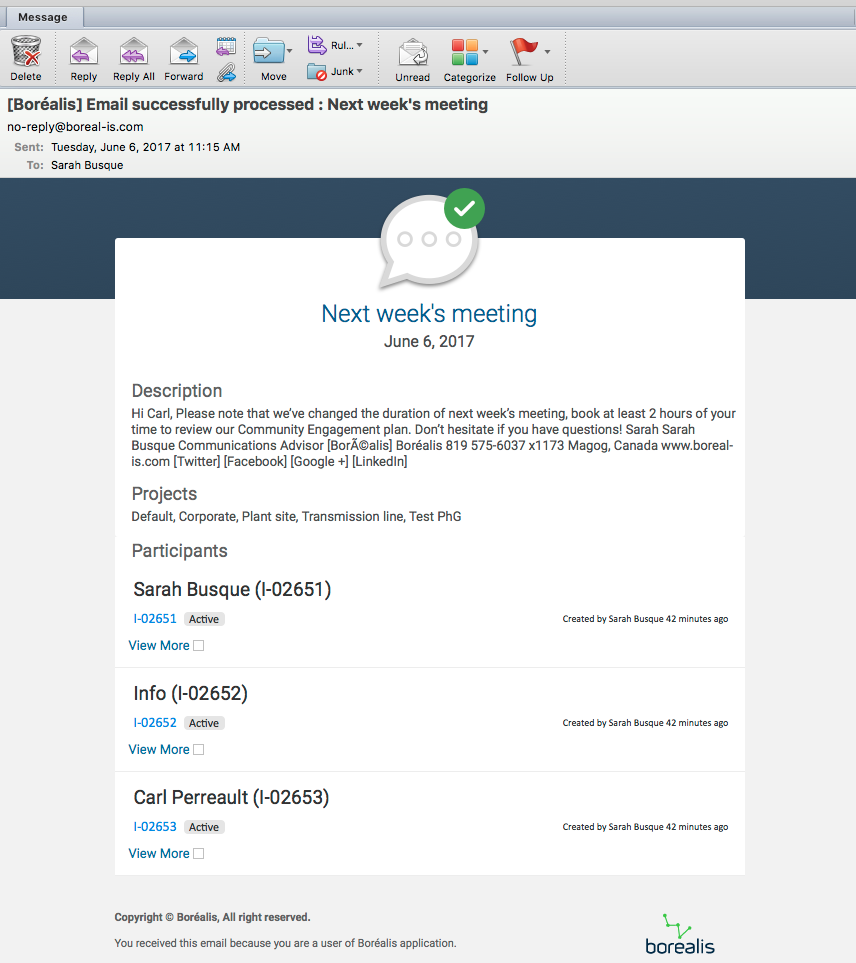 2. It's now simpler to report across multiple sites (Corporate Pack)
Do your operations require you to report for different requirements across multiple sites? You'll be happy to know we've added extra layers of reporting to the application to enhance its ability to assist reporting for multiple sites. All sites are using the same application, which can be configured to meet site-specific requirements: this allows the corporate office to enforce standard data management, all while giving more freedom to each site.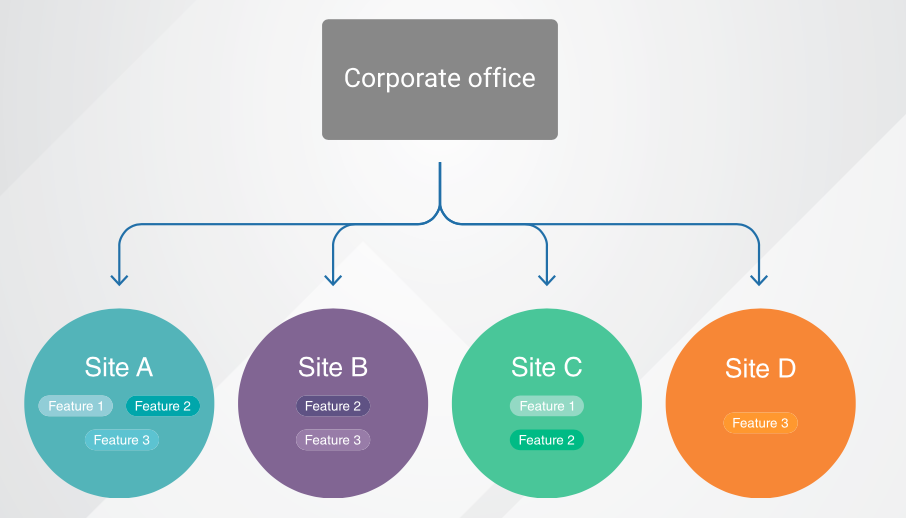 According to their access permissions, users can either only view data for their site, or for all sites. Read-only accesses also provide users with an access to data just for reporting needs. Data segregation ensures security and confidentiality between sites. Clients can easily meet both their corporate and site-specific objectives. Remember that we consider each site as a client, for whom we provide personalized support services. Don't hesitate to contact us for more information about reporting for multiple sites!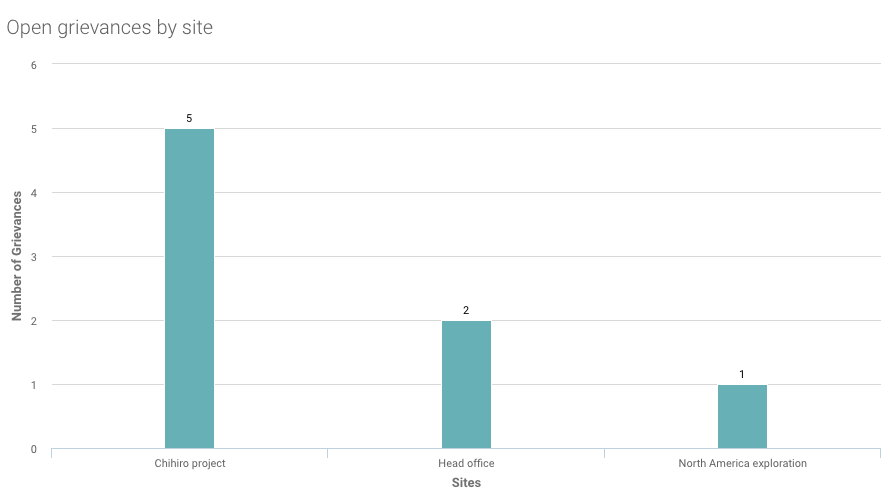 3. Easily filter your data per project
Great news for users of the data segregation offered by the Security Pack ( renamed Team Data Segregation Add-on in 2021): it has never been so simple to access reporting by project. You'll notice the following add-on to your main toolbar in the top of the application:

Use the drop down menu to filter data and reports by project. This new features makes it as simple as it gets to visualize trends and changes by project.
4. Ongoing improvements to user experience and interface
Expand widgets/graphs to full screen view
Whether you're consulting a dashboard in Analytics or a record that contains graphs, you can now expand them to full screen view. This new feature offers a better overview, especially for graphs with a lot of data. It also lets you navigate from a graph to another in full screen.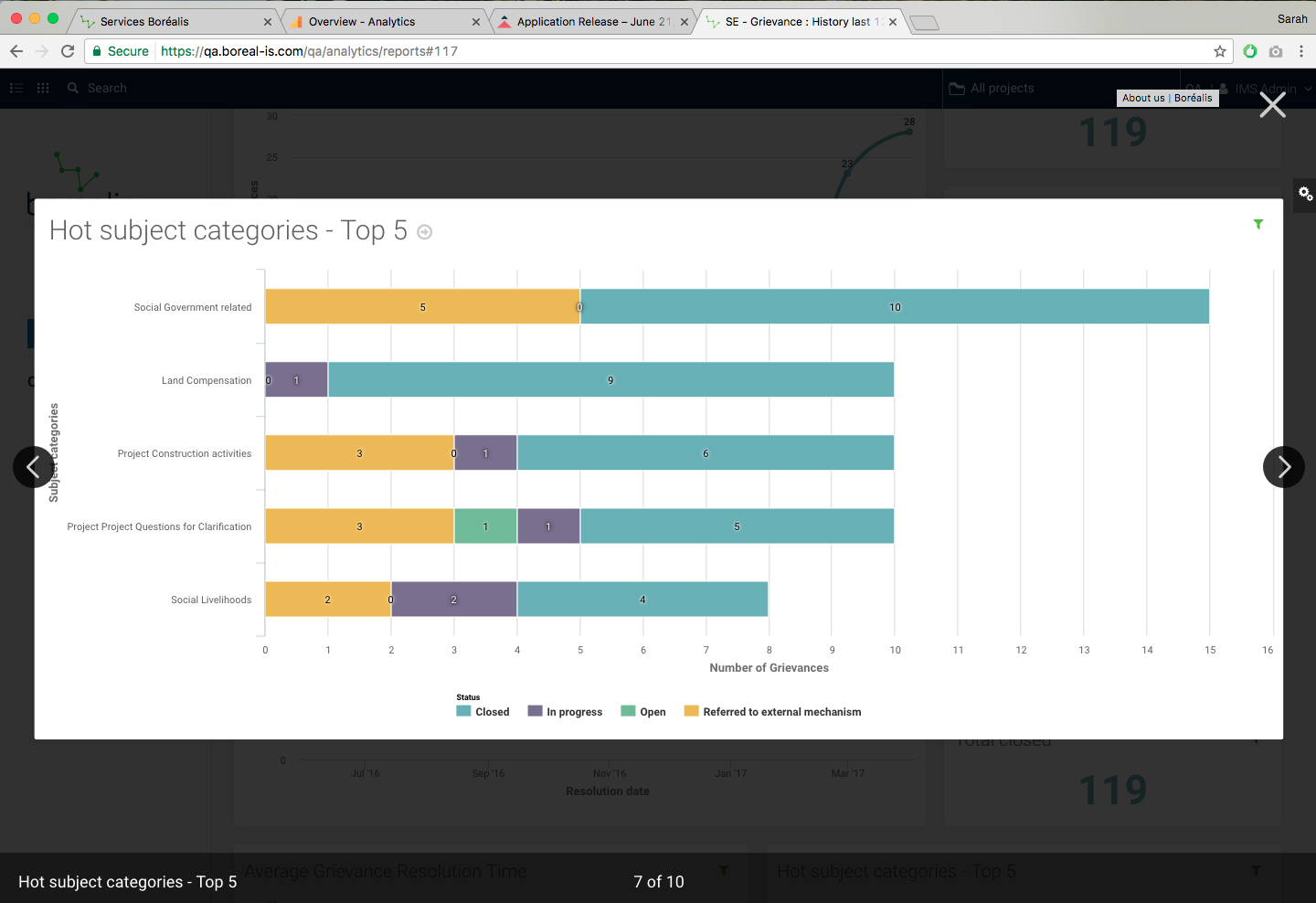 Drag and drop quick links to rearrange order
Easily rearrange the order of your quick links by drag and drop. Just click on the three lines that appear on the right of links as you hover them to change the order.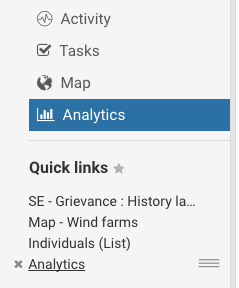 5. Do you know we have keyboard shortcuts in Boréalis?
Whether it's the simple Ctrl-Enter to save a record or Ctrl-Shift-F to access the search bar, there are numerous shortcuts you definitely should start using in the Stakeholder Engagement module. To make it easier for users to spot and start using them, the shortcuts will now appear in your interface where they are available, like for instance in the Actions menu in stakeholder records (notice the information in pale grey on the right side) or in the search bar.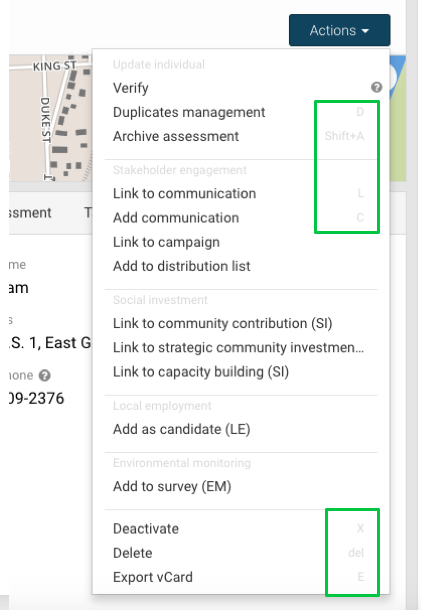 6. Selection lists just got a makeover
Better visualization of records in list
We've improved selection lists, which now display more information to help users find the records they're looking for. The view will be the same as the one you find in the search bar.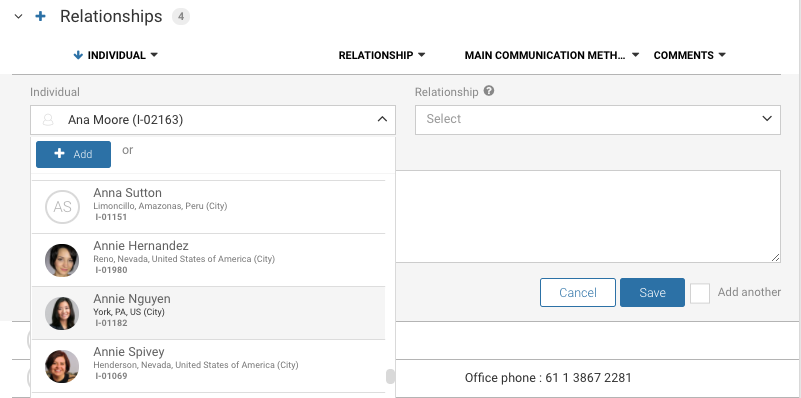 Search criteria will now fill the "Title" field of add forms
This has been available for individuals and organizations for a while, but it will now also work for any search in a selection list: if users make a research that doesn't have any matches, then clicking on "Add" to create the record will open the creation form using the researched words to fill the Title field.
7. New features for the Monitoring & Evaluation and Compliance Management modules
Integration of Environmental Monitoring and Compliance Management modules
To simplify audits and compliance assessments, our Environmental Monitoring and Compliance Management modules have been integrated so that nothing falls through the cracks. How does it work? Every threshold that is set in the Environmental Monitoring module can also be linked to a condition in the Compliance Management module. When measures respect the threshold during inspections, it creates a compliance. On the other hand, if a threshold is over or below its regular indicator, the Boréalis Application will automatically generate a non-compliance alert. Users can even set up instant email notifications to be alerted as soon as threshold are breached.
Monitoring & Evaluation - Calculate complex parameters
Manipulation of data is a constant risk while doing environmental monitoring. To address and minimize this risk, the Boréalis Application now allows users to calculate complex parameters, including percentage, concentration (multiplication or division of parameter), etc.
These complex parameters are the result of formulas (including simple parameters), which users can fully configure. Your team will become more efficient in addition to reducing data manipulation/manual errors: complex parameters are calculated automatically and more accurately.
Compliance Management - Spend less time recording inspections with several conditions
We just extended the "Edit all" function to the Compliance Management module. Save time editing inspections with dozens of conditions.