Here are the steps to synch Boréalis Calendar with Outlook, Google or Apple.
Important: Before you can synchronize your Calendar with Borealis, you will first need to have a 'Calendar' Widget created in Borealis.
In the left menu, click on Analytics and select the Widget Calendar you would like to sync
Click the Actions menu on the right
Select Export iCal
Click on the "Copy to clipboard" button
How to Add a Calendar using the Outlook Desktop Application
1. Navigate to the calendar view
2. Click on "Add Calendar"
3. Select "From Internet"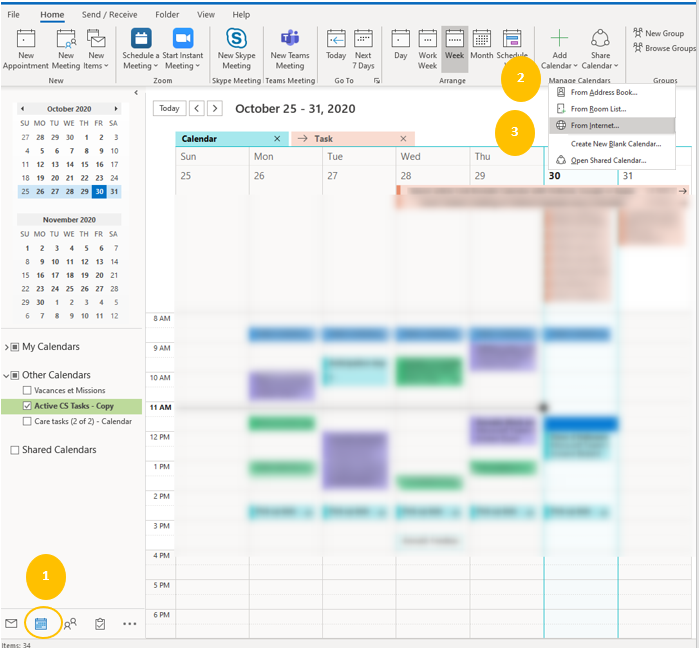 4. Paste (Ctrl+V) the link copied to clipboard from Borealis
5. Outlook will ask if you would like to add the calendar and subscribe to updates, select "Yes" to sync all updates between Borealis and your outlook application.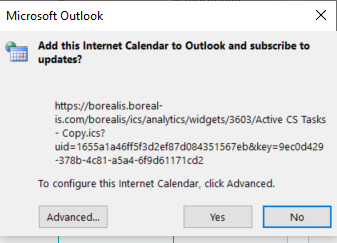 6. If required, you can safely modify the new calendar's name; this will not compromise the synchronization with Boréalis.
If you would like instructions on how to link your Borealis Calendar with Google or Apple Calendars, you can refer to the links below on how to add a new calendar.
Google: http://www.howtogeek.com/howto/30834/add-an-ical-or-.ics-calendar-to-google-calendar/