Here's an example:

Note: If you use email addresses of Engagement plans, projects, categories or atmosphere, you won't need to put the general email address.
Automatically categorize your communications with BCC Alias
How to import Email Alias to your contact list
In order to improve this feature's efficiency, it is now possible to categorize your communications without having to log into the application for:
Engagement plans
Projects
Sentiment
Subject categories
You'll find the list of all the elements you can add to your email in Application Settings --> Email BCC alias export --> Export vCard/Export Excel.
Using this feature takes 2 clicks: either download contact information (Export vCard, Export Excel) or copy the email to your clipboard, and then add it to the Bcc of your email. Should you download contact information or just copy-paste the email? If it's for a Campaign that you'll be updating frequently, you should export the vCard to add it to your contacts. If it's a one-time deal, just copy-paste the email to the Bcc.
To access contact information, simply use the blue arrow next to the record's number: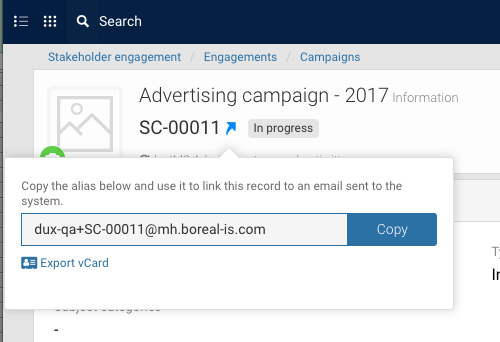 Using email addresses
Once the contact information has been added to your contact list (or if you copied the emails, once they've been pasted), you'll be able to further categorize your email communications directly from your mailbox, without having to log into Boréalis. In the example below, the communication and stakeholders will automatically be linked to the campaign "Advertising campaign - 2017".