When working on a 'Chart' type widget, it is often useful to be able to group some values to make the chart more relevant.
Thanks to custom grouping, you can select what data is displayed and how it is displayed.
Examples for custom groupings usage:
Only display data related to current year
Only display data related to you own team
Only display data on individuals leaving in a given area.
NB: You can customize an existing private widget by making a duplicate for yourself or creating a new widget with your own custom groupings.
Steps to follow:
Access the widget where you want to perform grouping.
Select the properties tab and click the edit button to access the fields and change the grouping type from 'All' to 'Custom'.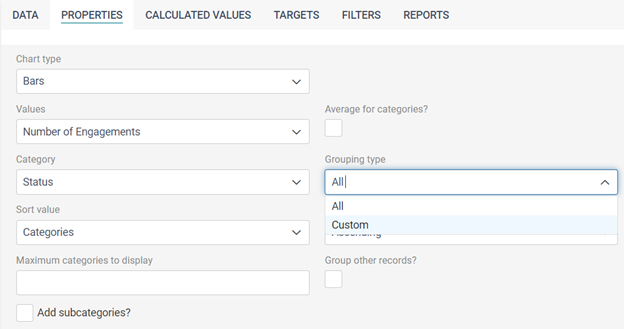 When you change the Grouping type from 'All' to 'Custom', you are given a new option under 'Category'.
A new button appears and allows you to add your own filters to the report/widget. Adding new filters/parameters dynamically changes the chart type allowing you to visualize your results in real time.