You have the choice to send communications to Borealis from the application located on your computer desktop. Read the following article to know how to proceed. Make sure that the added recipients are "Users" in Borealis. Otherwise, they will not get the communication in the Borealis instance.
However, if you prefer to send a communication to Borealis from the Outlook 365 website, follow these steps:
1. Open Outlook 365 from https://login.microsoftonline.com/. Enter your information to log in.
2. From the "Inbox" create a "New Message" in the upper left corner. From the new message creation window, choose the 3 ellipses at the bottom, to expand your "Add-ins" menu: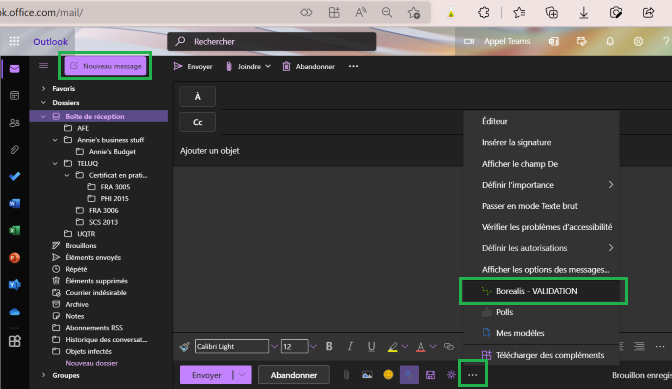 3. Fill in the fields of the communication intended for Borealis. Choose your recipients and include them according to their respective positions (To, CC or Bcc). Once completed, please click on "Send" and you will receive a confirmation by email:

4. In Borealis, select your "User" profile. Go to the "Stakeholder engagement" section and select the "Communications" tab and choose your message and click on "View":

5. When you open it, confirm the details of the communication created from Outlook: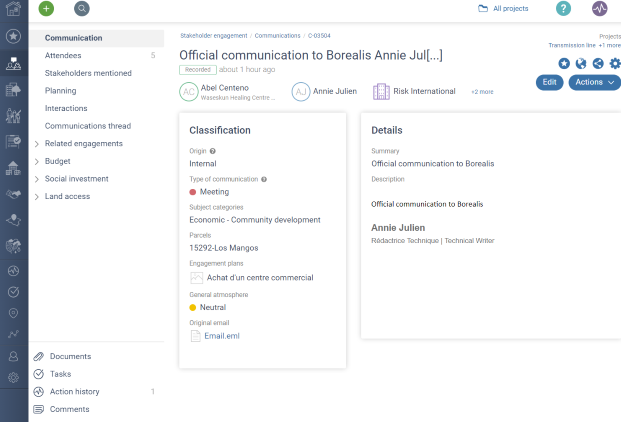 Note: The Android device does not support the use of the Borealis add-on when composing an email. When an email is created, it will be possible to transfer it to Borealis afterwards.