We recommend that you always define the results you're expecting before working in Analytics. Express what you are looking for in a concise, explicit question that you will then translate into the configuration of your widget, like for example: "Who are the stakeholders we engaged with over the past month?" Having a clear idea of what you are looking for in terms of information types, columns names, sorting, etc. helps in defining which parameters you will use to build your widget.
Access Borealis Analytics from the application menu on the left side of your screen.

Click on the "Add" button in the Widgets tab to create your first widget. The following form will appear: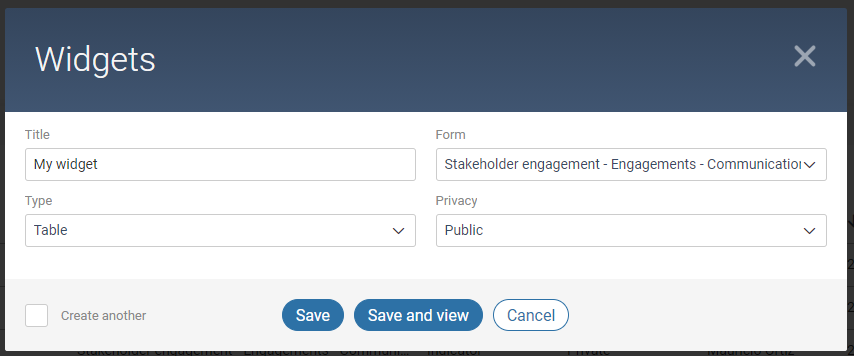 Title
Enter the title of your choice. It should explicitly describe the information you want to portray with the widget. This title will allow you to find your widget with the research tool.
Form
Select what data source the widget will be built on, like for example the main form on which you want to report. You can only select one form, and this cannot be changed once the widget has been created.
Note: Always keep in mind that the Form allows you to define the subset of data used to create tables and charts. Every table and chart is based on these parameters.
Type
How do you want your data to be visually represented? Select the type of format to present your data with. Different options are available:
Calendar
Chart
Indicator
Map
Scatter plot
Table
The widget type can be changed once the widget has been created.
Privacy
There are 3 levels of privacy for Borealis' widgets:
Private: Widgets are only for your own use; other users don't see them.
Public: Widgets are available to other users (according to their access level); other users can see them but are not allowed to modify them.
System: Widgets are built in the system and maintained by Borealis. They cannot be deleted (only duplicated).
Some management options for your widget will be available after creation.
Click on "Save and View" to access your newly created widget.