A Superuser's responsibilities tend to fall into 4 main categories: User Support, Ensuring Data Quality, Reporting, and System Configuration.
We've provided some recommendations about how often to perform these actions. Please note that these are just guidelines, and you'll need to decide what works best for your organization based on the amount of data you manage, the size of your team, and a variety of other factors.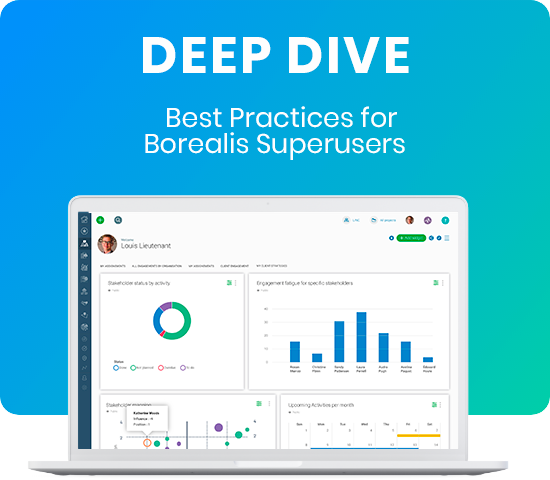 User Support
As a Superuser, you take the lead in supporting the users at your organization, which means answering their questions, rectifying behaviors, and keeping an eye out for unanswered needs. Let's look at some tips to help make the process more efficient.
Give users the tools they need
Introduce your users to resources like the Help Center and the Borealis Academy YouTube channel. These can help them quickly find answers to common questions.
Think about creating a set of usage guidelines for your team. It can be very helpful to create Quick Guides or other reference tools that explain how to handle specific issues encountered within your organization. (Be sure to update these resources as needed!)
Confirm that your users have access to Analytics. Have them bookmark the reports they need, and verify that they have the appropriate permissions to access all of the information required to inform their efforts. Sometimes people don't understand the purpose of entering all that data in the system. When you show them how reports and widgets can instantly call up helpful information, it helps them see the value and encourages system adoption.
Add field descriptions and tooltips in your data dictionaries to let your users know what information is expected and how to enter it in the desired format. (The better your data dictionaries are, the less time you'll need to spend creating other tools like Quick Guides!) Review and update your data dictionaries periodically as your system use evolves.
Don't forget that we offer online refresher sessions from time to time for those who would like to brush up on their basic skills!
Define a clear support channel
Establish a clear process to address questions and bugs and explain how issues will be handled if they escalate to the next level. Make sure your team knows what to do – or who to contact – if they get stuck or need to report an issue.
There are times when your users may need to contact Borealis directly. You might want to ask them to copy you on any help desk requests they submit. Not only does this help you stay aware of potential issues, but it allows you to share the answers with the rest of your team. If necessary, you can schedule a supplemental training session, and add the information to your Quick Guides or other team resources.
Share information and ideas
Routinely monitor system use to identify training needs. You may wish to send a weekly email to provide helpful reminders for your team. This can be a great opportunity to address common oversights, like fields that are frequently left blank.
Schedule a regular meeting with your team (monthly or quarterly) to discuss ideas, follow up on tickets, and identify possible improvements. From time to time, you may also wish to review your dropdown menus during these meetings to ensure that the available options make sense to your users and adjust them accordingly.
Ensuring Data Quality
It's essential to regularly verify that your data is accurate and complete so you're prepared to respond in the blink of an eye. Let's say you need a list of all stakeholders on a given street to engage with them about a flooding issue. As long as your stakeholder records aren't missing important information, you can generate that list in seconds! Data quality will be much easier to manage if you monitor it routinely to address potential problems before they get out of hand.
Set up dashboards and reports to monitor data quality. Review these reports weekly, and address common oversights with your team. Two of the reports you can find in your Analytics reports list can be particularly helpful in evaluating data quality: Data Management - Suggestions and Quality and SE - Overall Data quality follow-up.
Regularly manage and merge

duplicate entries

.
Consider implementing a stakeholder verification process.
Reporting
For the most part, your reports take care of themselves, but it's a good idea to review them on a regular basis to be sure that your organization's needs are covered, and that your reports are still aligned with your evolving situation. Do you need to create any new reports or modify existing ones to track specific KPIs? You may also want to change the layout, add or remove widgets, or include labels to make the report easier for your intended audience to read and understand.
Verify that your scheduled reports are still relevant. Review the list of recipients for each report to add any new users and remove anyone that no longer needs to receive the information.
Check to see if any of your standard reports would benefit from the addition of report filters.
System Configuration
As you gain experience using the system, you might find that certain values or fields aren't as useful as you'd hoped they would be in a real-world setting. You may also wish to adjust your configuration as your focus changes over time. We recommend that you review these settings each year to be sure that your system configuration accurately reflects your business needs.
Make sure that all of your users have customized home page reports.
Look through your visible fields to make sure that the fields displayed are useful. Check to see if your mandatory fields make sense and consider whether it might be helpful to add or remove some.
Review the configuration of your main forms.
Check to see if all email notifications are still relevant. Create or deactivate as needed.
Optimize your data dictionaries with clear, practical descriptions that tell your users what information or value is expected and what format to use.
Review your subject categories to remove any that are unused or unnecessary. At the same time, you may wish to evaluate those that are used frequently to ensure that the categories are not overly broad. (For example, if you have a large number of communications in a category called "Water," you may decide to break the category down into more specific categories like "Water Quality" and "Water Level").
Important tips regarding system configuration
Make sure you consider the potential impacts before making any changes to your system configuration. Understand what will happen if changes are made… for example, how the change will affect existing reports.
Always document any changes that are made to the configuration along with a brief explanation of why the changes were made. It might seem obvious at the time, but that might not be true a year from now. If someone doesn't understand why a certain change was made, they may decide to override the decision, which can cause problems and create additional work. Here's an example: "January 26, 2022: Made [FIELD] mandatory; it is important to [QUARTERLY REPORT] we need to send to [REGULATOR]." Good documentation is also helpful in case you leave the organization, take an extended absence, or bring a new Superuser on board.
In the interests of data security, it's a good idea to check that the list of users who can export data is still valid and up to date.
If you have questions or if you would like support implementing any of these tips, please contact your Customer Success Advisor.