Feature
Is your Land Management team dealing with multiple agreements related to parcels and third-party properties for a project? Do these agreements involve negotiation status, specific conditions, and required payments? Do you need to track the engagement process with landowners for these agreements?
If so, our new Land Agreements Add-on is the solution you're looking for. Land Agreements not only ensure proper identification of all parcels and landowners related to a project or company asset but also enable the recording of relevant conditions and commitments between the company and its stakeholders. These can include access rights, use rights, and compensations.
The Payments and Instalments sections within Land Agreements allow you to manage payment details, recurrence, and payment status, as well as information about the stakeholders receiving these payments, and their bank account numbers.
Please note that the Land Agreements Add-on is a billable feature that requires activation of the Land Management Module. If you're interested in adding this feature to your subscription, reach out to your account director or customer service representative.
Our Analytics module has been meticulously designed to unlock the full potential of data-driven insights, allowing you to make smart and strategic decisions, ultimately improving the overall success of your projects.
In the past, our Widgets were limited to displaying a single type of information, necessitating the use of multiple widgets to analyze various data trends.
However, based on valuable feedback from our clients and our commitment to continuous software improvement, we are delighted to introduce the Combination Chart Widget.
The Combination Charts Widget significantly enhances the versatility of Analytics. Users can now select existing widgets as the basis for creating Combination Charts, or they can configure entirely to present comparable information. This newfound flexibility promotes transparent data interpretation, highlights trends, and enables in-depth analysis. Ultimately, it contributes to better decision-making and enhances communication.
We believe this enhancement will greatly benefit your data analysis efforts and help you achieve even more with Borealis.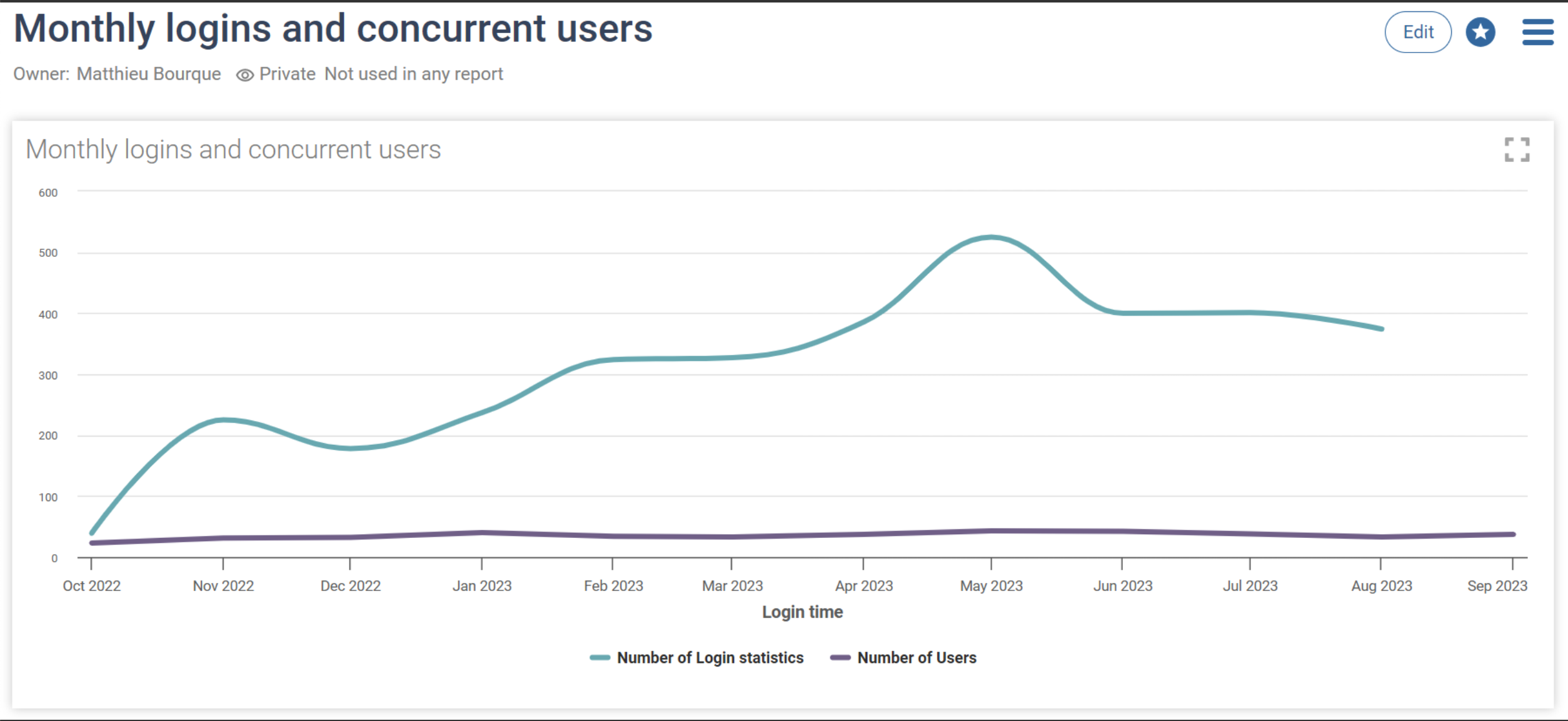 Engagement Plans Improvements
Helping our clients achieve successful stakeholder engagement has been Borealis' raison d'être for the last 15 years. We firmly believe that a well-defined stakeholder engagement strategy is crucial in today's complex and interconnected business environment. It serves as a roadmap for actively involving key stakeholders in decision-making processes, nurturing relationships, and achieving positive outcomes.
At the core of our Stakeholder Engagement Module, the Engagement Plans functionality has become an indispensable tool for our clients' stakeholder engagement strategy's success. Engagement Plans offer the necessary scope, specificity, and purpose by outlining objectives, activities, and responsibilities to attain successful results.
In this release, we are excited to introduce several enhancements aimed at improving the use of Engagement Plans, including:
Duplicate Engagement Plan action: This feature enables users to effortlessly replicate an existing Engagement Plan, including its general information, stakeholders, staff members, and objectives (Note: Activities and tasks cannot be duplicated).

Complete tasks from an activity in batch option: This functionality reduces the time required to complete each task individually.

Add staff member to multiple engagement plans option: Streamlining the process of updating staff members participating in a group of engagement plans. New staff members will be added to the Planning - Team Member / Collaborator section of the Engagement Plan.

Assigning stakeholders in activities: A reminder to properly assign the responsible users for the stakeholders in an activity.

Activities Importer: This feature allows users to create activities within an engagement plan via a predefined Excel template.
These improvements aim to enhance your experience with Engagement Plans, making stakeholder engagement management even more efficient and effective.
The new calculated relationship functionality in Borealis automatically establishes relationships between two individuals based on their organizational affiliation or participation in specific communication types. Superusers have the ability to define rules for these calculated relationships in the Relationship dictionary.
Other Improvements
Stakeholder Engagement
The Borealis Team Data Segregation - TDS - empowers our clients to create multiple projects and define user access privileges for each project, ensuring data confidentiality. However, in today's interconnected landscape, individuals and organizations often play roles as stakeholders in multiple projects simultaneously. While the primary stakeholder record can be shared across relevant projects, communications are typically recorded within the specific project to which they pertain. Consequently, unless a user has access to all projects involving a stakeholder, they may only have a partial view of the engagement process with the stakeholder as those communications created by other users in other projects are nor visible.
As a result, multiple staff members from the same organization may engage with the same stakeholder at various times and across different topics and projects. Unless communication is highly efficient, this can lead to confusion and misunderstandings.
To mitigate this risk, we have introduced a new section in the stakeholder record called 'Comms (limited access)' In this section, you'll find a basic list of metadata related to communications in other projects, including reference numbers, dates, and staff members involved. This allows all users to quickly identify other interactions while maintaining the confidentiality of the TDS feature.
Engagement Plans: Adding a Stakeholder
When adding a stakeholder to an Engagement Plan from the stakeholder record page, the form will now present additional fields for entering extra information.
Social Investment
Investment Plan: Budget Management
Managing the Investment Plans for Community Contributions and Strategic Community Investment - SCI - initiatives can often be a daunting experience. Even when a company has clearly defined areas of investment, the overall budget does not align with this structure but instead comes from a single budget account.
To address this challenge, we have introduced a new feature in the Investment Plan configuration known as 'Budget Management.' This feature provides you with the flexibility to choose between traditional budgeting on a 'Per area of investment' basis or opt for the new 'Single amount' option.
Even if you select the 'Single amount option,' you will still have the ability to specify the Area of Investment for your Community Contributions and SCI programs, enabling you to generate detailed Analytics reports on your Social Investment performance.
Email Notifications
Email notifications are a valuable communication tool for keeping users informed about updates and tasks within Borealis, especially those related to specific changes or records. In this release, we are expanding the Email Notifications feature to include the Social Investment module.
This improvement will empower you to promptly notify the relevant users when a new community contribution or SCI (Strategic Social Investment) request is received. Furthermore, it facilitates notifications to be sent to individuals responsible for assessing, reviewing, and approving these requests, thus enhancing the efficiency of Social Investment processes and increasing the visibility of Social Investment initiatives.
Documents: Document Type
A new "Document type" field has been aded to the Document section. Once the file has been saved, users will now be able to assign a specific "Document type" to be used when querying data and creating widgets in Analytics.